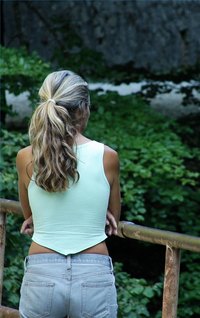 There are three types of birth control methods that can be used to regulate your period: combination birth control pills, the birth control patch or the birth control vaginal ring. These methods use the hormones estrogen and progestin to prevent pregnancy. Estrogen and progestin are also responsible for controlling your menstrual cycle, so when you receive doses of these hormones from your pill, patch or ring, an added benefit is a more regular menstrual cycle.
Combination Birth Control Pills
Birth control pills that contain both estrogen and progestin are called combination pills to differentiate them from the progestin-only pill, a type of birth control pill that only contains estrogen. Combination pill users take a pill containing hormones each day for the first three weeks of the menstrual cycle. In the fourth week, you either take pills containing no hormones or take no pills at all. In either case, you will get your period during this fourth week, as the absence of hormones causes bleeding to occur.
Birth Control Patch
The birth control patch, also known as Ortho Evra, is a small adhesive patch that releases estrogen and progestin into the bloodstream through the skin. The patch is worn for a week at a time then replaced with a new patch for the first three weeks of the menstrual cycle. No patch is worn during the fourth week. As with combination pills, bleeding occurs during this fourth week due to the lack of hormones.
Birth Control Vaginal Ring
The birth control vaginal ring, also known as NuvaRing, is a small, flexible, plastic ring that releases estrogen and progestin when placed in the upper vagina. The ring is left in place for the first three weeks of your cycle. During the fourth week, the ring is removed and menstrual bleeding occurs. After seven days, a new ring is placed into the vagina to start a new cycle.
Consult Your Doctor
It's important to tell your doctor that you're experiencing irregular periods before you start taking birth control. While irregular menstruation is often merely an annoyance, irregular periods can sometimes be a sign of an underlying condition that may need to be treated. Since hormonal birth control may simply mask the symptoms of this condition, telling your doctor about your irregular periods will help her determine whether your situation deserves additional examination before birth control is prescribed.
After You Stop Using Birth Control
When you stop using your birth control method, your period may return to the irregular cycle that you experienced prior to starting birth control. Sometimes it takes several months for your period to return at all. If your period doesn't return within three months, take a pregnancy test to ensure that you aren't pregnant; see your doctor if you haven't gotten your period within six months.