White hair means you're getting old--or at least older. However, the cause of white hair isn't quite that simple. It's true that white hair is a sign of aging, but the time at which hair starts to silver is directly tied to one's genes. Scientific research has yielded interesting developments in how heredity, medical conditions and external stressors can cause white hair.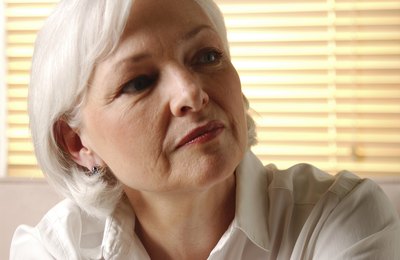 White Hair: How It Happens
The amount of pigment, or melanin, in each individual hair follicle is regulated by a special stem cell called a melanocyte. Each melanocyte cell is "preset" to function for a specific period of time, after which it dies. After a melanocyte stops functioning, the hair follicle begins to grow out unpigmented, or white. A mixture of some dark hair and some white hair can give the visual illusion that a person has gray hair, but a head of hair that is totally without pigment appears white.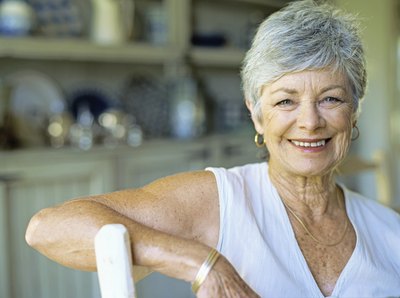 When Will You Get White Hair?
A New York Times article reported that Caucasians usually start to notice white strands first, sometimes in their mid-30s, while those of Asian or African American descent start to go gray later. Roughly 50 percent of the age-50 population are at least 50 percent gray. According to a 2005 report published in the "Journal of Investigative Dermatology," the age at which your melanocytes start to stop functioning is largely hereditary.
Medical Causes
Certain medical conditions are known to cause hair to turn white prematurely. Those born with a genetic anomaly called vitiligo--a form of albinism--have patches of unpigmented hair. Research indicates that people with this condition lack an important enzyme that breaks down hydrogen peroxide, which results in increased levels of hydrogen peroxide not only in the hair, but the skin as well. Thyroid disease and anemia can also cause hair to turn white.
Stress and White Hair
Can stress alone cause white hair? A report released in June 2009 by the Tokyo Medical and Dental University indicates that the hair of laboratory mice exposed to repeated full-body X-rays and chemical injections grew out unpigmented, suggesting that these factors could cause irreversible DNA damage. There are numerous anecdotes throughout history of notable figures such as Marie Antoinette and Thomas More turning white the night before they faced execution. But these tales are doubtful. There is a condition called diffuse alopecia areata that causes pigmented hair to fall out rapidly, but hair without pigment is left intact. This could be an instance when someone appears to get white hair in a short period of time.
A Cure for White Hair?
Currently, there is no medical treatment that causes white hair to grow back in its former color, nor are there scientific studies to indicate that a special diet, herb, nutritional supplement or other holistic treatment will reverse the graying process. This leaves those who are unhappy with their silvery tresses to turn to a box of hair dye.
However, studies conducted on what causes melanocyte stem cell damage help the scientific community better understand the causes of white hair. According to Linzhao Cheng of the Johns Hopkins Institute of Cell Engineering, those who are aging soon might have the option of using an anti-graying cream.