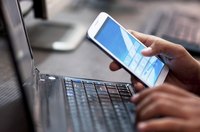 Giving and receiving feedback in business communications can help ensure that important messages get across as intended. Gathering feedback from employees, customers, suppliers and other stakeholders helps improve communication systems, identifies problems before they get out of hand and creates a more efficient operation. It also allows the organization to respond promptly and efficiently to concerns and suggestions.
Improving Internal Relationships
When you regularly solicit input from staff members about your organization's internal communication efforts, they feel they have stake in the process and that their opinions are valued. They also are given the opportunity to become part of the solution for improving communication systems. In addition, you will gain insight into what your staffers need from you in terms of internal communications. Use surveys or focus groups to find out how well you share company information. Communicate daily with employees and ask for ideas on how to improve the system for sharing ideas and concerns.
Successful Interaction With Consumers
Invite customers to share their thoughts on your current communication strategies and ask for input about how they prefer to be contacted. For example, give customers an option of receiving daily, weekly or monthly updates from your organization. Poll clients about whether they prefer email, text messaging or social media, or if they prefer snail mail, personal phone calls or cell phone calls. Gathering and using this information effectively will help ensure customers see your communications as valuable and helpful rather than as an intrusive nuisance.
Improving Customer Service
Communicating effectively with clients and consumers helps retain business, increase loyalty and build rapport with your client base. Customers who feel they can easily reach you are more likely to be satisfied with your service than those who must wait on hold or navigate a maze of web pages or telephone options. Consumers who believe information is forthcoming may also be more likely to view your company in a positive light than those who feel communications are limited or hazy.
How to Do It
Include a feature on your website or social media accounts that invite consumers to give you feedback about a wide range of subjects, including products, services and communication mediums. Allow your employees the same option for expressing their opinions on the way communications are handled internally. When you make changes based on input from staffers or customers, publicize it to let people know you're listening to their concerns and responding proactively.