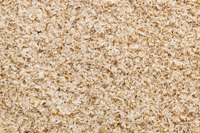 Psyllium fiber comes from the seed and the husk of the Plantago ovata shrub. The husk is what covers the seed is the most common commercial source of psyllium fiber. The seeds themselves contain fiber too, as well as other nutrients like protein. Psyllium helps relieve constipation and may promote healthy cholesterol levels. However, if you have high cholesterol, discuss it with your doctor before taking psyllium.
Common Use
Because soluble fiber softens stool and adds bulk, psyllium is most commonly used as a gentle laxative, or a means to stay regular. Some people take psyllium to improve symptoms of irritable bowel syndrome, which causes bloating, irregularity and digestive discomfort. Psyllium fiber is effective at reducing the severity of IBS symptoms, according to a study published in the August 2009 issue of the journal BMJ. Consult your doctor before taking psyllium if you have a bowel condition.
Potential Benefit
Psyllium, like other soluble fibers, absorbs water in the intestines and swells, which forms a gel. This slows digestion and may reduce the absorption of cholesterol into the bloodstream. When combined with a reduced-fat diet, psyllium significantly lowers total cholesterol and LDL -- a bad form of blood cholesterol, according to a study published in the February 2000 issue of the American Journal of Clinical Nutrition. The authors came to this conclusion after conducting a meta-analysis of eight controlled studies.
Incorporating Psyllium Into Your Diet
In nature, the only source of psyllium is the plant. However, if you're interested in adding it to your diet, you do have a few options. Some manufacturers fortify cereals with psyllium to increase the fiber content. You may also find psyllium added to some baked products like high-fiber muffins and gluten-free breads. Another option is to purchase psyllium fiber and add it to foods like smoothies, yogurt and soups. Purchasing psyllium supplements in the form of capsules, tablets and powder is an alternative.
Use Psyllium Safely
If you're used to a lower-fiber diet, abruptly taking in more fiber can cause bloating, gas, cramps and other forms of digestive discomfort. To avoid this, gradually increase your intake. Psyllium may decrease or slow down the absorption of certain drugs, so you'll need to wait two to four hours after taking medication. Psyllium may also decrease the effectiveness of certain medications, so talk to your doctor first if you're prescribed anything. When taking psyllium, always have a glass of water to prevent dehydration.