During pregnancy, a baby takes approximately nine months to grow from a fertilized egg into a little human being. Month by month, baby makes significant changes as he grows and develops. You can track these changes by noting the size of your belly and the weight you gain. You can also go online or ask your doctor about the specific changes and appearance of your baby month by month.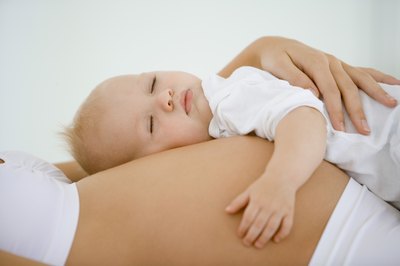 Ninth Week
During the ninth week of your pregnancy, you have only just begun your third month. Your baby has begun to move at this point, though you may not be able to feel it just yet. She has also developed joints at this point, and will spend the next few months learning how to move them properly. According to pregnancy.org, the average size of a fetus at nine weeks is 0.9 inches, with the weight being approximately 0.7 ounces.
Tenth Week
At week 10, your baby is approximately the size of a prune, according to The Bump web site (1.2 inches, .14 ounces). His arm joints are working well, and he has doubled in size in the last week. He is starting to form bones and cartilage, and his vital organs are beginning to develop.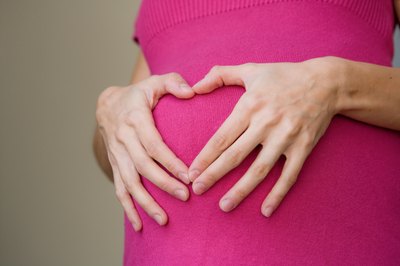 Eleventh Week
Baby has tiny fingers and toes now, and they have separated from one another. She will begin to grow her hair and nails during this week, and her genitals will begin to take on male or female characteristics. Pregnancy.org details that she will be approximately one and a half inches long and weigh approximately one quarter ounce. She will also begin to develop the functions required to digest food during this week.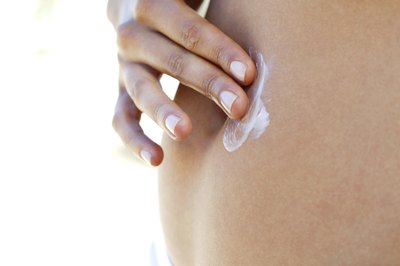 Twelfth Week
During week 12, your baby has progressed to approximately two inches and half an ounce in size (The Bump web site). Almost all of his internal systems are now fully formed, so he is truly a mini-person at this point. He also has vocal cords, which he will use for the first time right after he is born. His eyes and ears begin to move into their proper and permanent positions on his head, and his liver and pancreas begin to perform their normal functions.
Thirteenth Week
Your third month has come to an end, and baby is approximately 2.9 inches and .8 ounces (pregnancy.org). She has experienced significant growth this month, and she can even begin to use her hands now. Her neck has elongated and her chin has risen up off of her chest. Her head is approximately 1/3rd the size of her body, and her intestines are moving from her umbilical cord to her abdomen, where they belong (The Bump web site).