Gelatin is a substance that originates from the bones and skins in animals. It is a common food additive and is used in many common foods. It offers little real nutritional value, but is almost harmless to the body. However, some people try to avoid gelatin in their diet because of dietary beliefs. If you are one of those people, you should know what common foods contain gelatin.
Jello
Jello has become a popular snack since its inception. It comes in many flavors and is incredibly easy to make. It is also relatively healthy when compared to other snacks, with low amounts of cholesterol and fat when compared to snacks like cookies and potato chips. Jello is also one of the foods with the highest amount of gelatin. In fact, the name Jello is a derivative of gelatin. Jello is, essentially, almost entirely made out of gelatin. This is why many vegetarians and vegans avoid Jello. If you are trying to avoid gelatin for any reason, it's a good idea to avoid Jello entirely.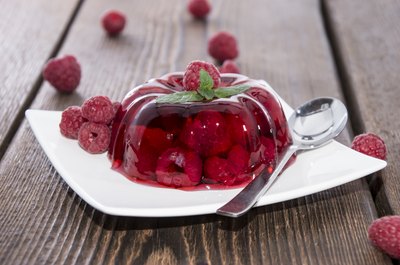 Gummy Bears
Gummy bears are a fun and tasty snack. Kids and adults alike enjoy biting into these small bears and stretching them past their normal size. Gummy bears are low in fat and cholesterol, so they can make a good snack for kids. They are also full of gelatin. The "gummy" substance that they are made out of is a form of Jello or other Jello like products. It is simple a hardened version of Jello. The amount of gelatin in gummy bears is comparable to the amount of gelatin in Jello. If you are trying to avoid gelatin in your diet, whether for health or vegetarian reasons, avoiding gummy bears would be a good idea.
Canned Meat
Meat makes up a large portion of the average person's diet. Protein is one of the most important food groups in our diet, and meat is one of the easiest ways to get that protein. Unfortunately, meat is also high in fat and is also high in gelatin. Gelatin is found in meats that are canned or preserved. This is because gelatin can be used as an excellent preserving agent. Meat spoils quicker than any other food, and it definitely needs help in being preserved. However, if you are trying to avoid gelatin, you should try to avoid canned, preserved, or processed meat. If you want to keep meat in your diet, try to get fresh cut meat from a butcher or high quality grocery store.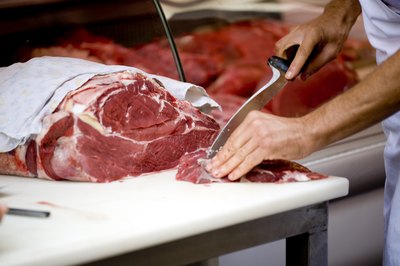 Soups
Soups are a canny meal. They combine a wide variety of food groups into a tasty whole. Many vegetables are included in soups including tomatoes, carrots, onions, and potatoes. Meats such as beef, pork, and chicken make up a good dose of protein and the noodles or rice of most soups bring in a hardy carbohydrate level. Unfortunately, soups are high in salt and some can be high in gelatin. The gelatin in soups mostly comes from the meat that is used. Canned or preserved meat is high in gelatin, as mentioned above. These are the kinds of meat that are most often used in soups. If you are trying to avoid gelatin in your diet, you can try getting soups that use more "natural" meat by avoiding canning or processing processes. You can also simply eat vegetable soups, like tomato soup, to avoid the meat all together.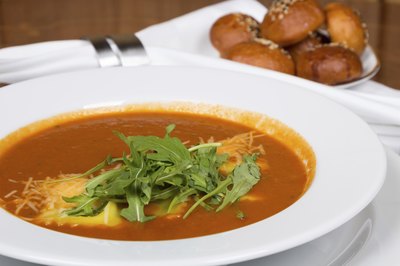 Marshmallows
Marshmallows have become a popular snack since their creation. Marshmallows are tasty and have a variety of uses. Some people use them on cakes to create a frosting. Others put small marshmallows in their hot chocolate or coffee. Still others cook them over an open fire and put them on graham crackers and chocolate to make smores. Marshmallows are like Jello in that they are almost entirely made out of gelatin. There are few other ingredients in marshmallows. They are simply created using a different process. They are also high in fat and calories and even if one is not avoiding gelatin in their diet, marshmallows should be eaten sparingly.