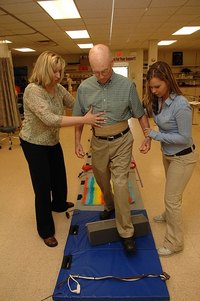 Five million people in the world are estimated to have some form of lupus. At least 1.5 million of those are Americans. However, the actual number may be higher because no large scale studies in the United States have been done to determine the actual predominance. Leg pain is associated with lupus as a symptom of the disease and can also be indicative of other parts of the illness.
Significance
Lupus is a chronic, autoimmune disease that affects predominantly women of childbearing age (15 to 44). However, anyone can develop the disease at any time. Lupus can attack any part of the body. Although not fully understood, autoimmune disorders are diseases that attack the body. The immune system normally fights off viruses, bacteria and other germs but with a disease like lupus, the body starts attacking healthy tissue. When this happens, there can be swelling, damage and pain in the areas the immune system is attacking, including the legs.
Lupus is chronic, meaning it lasts a long time and it can flare up and go into remission. However, when treated properly, most people with lupus can have a full and good quality of life.
Types
There are generally four recognized forms or types of lupus. Systemic lupus erythematosus (SLE) is the most common form. Cutaneous lupus erythematosus is a form of lupus that pertains to the skin. Drug-induced erythematosus is lupus that is caused by taking certain medications and neonatal lupus is found in infants who are born to mothers who have lupus. Leg pain is generally associated with all but the cutaneous (skin) type of lupus.
Symptoms
Leg pain can be a symptom of lupus, but not the only symptom. Some people report that painful joints, including in their legs, are one of the first signs of being aware of the disease. Swelling in the legs, and also the hands, feet and around the eyes may occur.
Other common symptoms of lupus include extreme fatigue, headaches, sometimes fever, low RBC or low total blood volume (anemia) or blood clotting problems, chest pain, sensitivity to light, and sometimes hair loss. Another tell-tale sign of lupus is a butterfly-shaped rash on the face, across the nose and cheeks.
Diagnosing lupus can be difficult and take time. Since symptoms mimic other illnesses, much of the diagnosis time can be spent ruling out other diseases.
Prevention/Solution
Medications for leg pain in lupus usually include anti-inflammatory drugs, such as aspirin, ibuprofen and acetaminophen. Anti-inflammatory medicines are usually the most common drugs used to treat symptoms of lupus and sometimes may be the only medicine needed. Other medications used to treat lupus are corticosteroids, and immunosuppresant, anti-malarial and sometimes anticoagulant medications.
Misconceptions
Lupus is not like cancer. Some people believe lupus to be a form of cancer, but it is strictly an autoimmune disease. Cancer is a condition of malignant, abnormal tissue. Also, lupus is not related to Human Immune Deficiency Virus (HIV) or Acquired Immune Deficiency Syndrome (AIDS). Some people read or hear the word autoimmune when related to lupus and think that the disease is related to immune deficiency. People with HIV have an underactive immune system, while people with lupus have an overactive immune system. Finally, lupus is not contagious.
Warning
Leg pain is sometimes a symptom of blood clots, a potential life-threatening symptom of lupus. If you suspect that your pain may be related to a blood clot, or you are taking heparin or warfin (trade name Coumadin) and experiencing leg pain, contact your doctor or seek medical attention as soon as possible.