During pregnancy, concerns about mercury may have you avoiding fish and seafood altogether for fear of harming your unborn child. Fish provides numerous nutrients your body and your baby need, including protein for growth and omega-3 fatty acids for brain development. Eat up to 12 ounces per week of low-mercury fish to provide you with these essential nutrients, advises the Environmental Protection Agency and the Food and Drug Administration.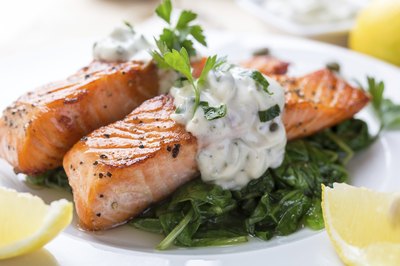 Avoid Altogether
While most fish contains traces of mercury, tilefish from the Gulf of Mexico, swordfish, shark and king mackerel contain the most and should be avoided. The Environmental Working Group also warns against consuming tuna steaks, sea bass, Gulf Coast oysters, marlin, halibut, pike, walleye, white croaker and largemouth bass while pregnant. In addition, be cautious of fish caught in local waters; check all advisories before consuming. Sushi is also not recommended during pregnancy because raw fish poses a greater risk of food-borne illness.
Lowest Mercury
The most commonly eaten fish and seafood that are low in mercury include canned light tuna, salmon, shrimp, pollock and catfish. Other fish and seafood that you can safely eat include croaker, summer flounder, farmed haddock trout and blue crab from the mid-Atlantic, notes the Environmental Working Group.
Limited Consumption
Note that when you select canned tuna, it should read "chunk light," not "albacore" or "white" tuna, which contains more mercury. If you prefer albacore, limit yourself to just 6 ounces per week. Other fish that you might enjoy in moderation, meaning about one serving per month, include mahi mahi, cod, lake whitefish, salmon from the Great Lakes and wild channel catfish. Enjoy blue mussels and Eastern oysters only once per month, too.