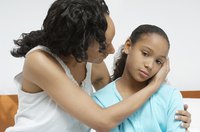 Sometimes known as behavior modification, applied behavior analysis is the use of specific techniques, often referred to as "interventions," to increase positive actions while diminishing harmful ones. For instance, a parent engaging in applied behavior analysis could hug her child when he shares his toys and give him a time-out for hitting his playmate.
Use in Treating Developmental Disabilities
Applied behavior analysis is often used to treat adults and children with intellectual disabilities at home, school or in a clinical setting. By giving children directions, teaching them small tasks and providing positive feedback for successful their completion, their ability to socialize and learn can be improved, according to the Kennedy Krieger Institute. For the best result, applied behavior analysis must be used early in life over a period of years, and is a common treatment for autism.