Gas pockets in the body are natural, and everybody has them. Easing the flow of gas through your body can be controlled in several ways. Gas buildup can be painful and often confused with other physical problems. It is important to understand what your body is doing and to give it proper nutrition, exercise and rest to nurture normal functions.
Limit Gas Intake
Swallowing air is one of the chief ways gas gets into the body. You swallow air each time you chew, drink or smoke. Slow down your eating and drinking and don't swallow until your mouth is closed. If you are a nervous type of person, and you tend to do things quickly, you will find your body is absorbing much more gas or flatulence.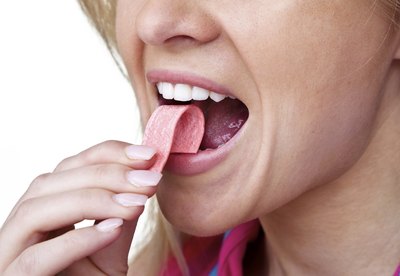 Foods to Avoid
The second big producer of gas is food that can create gas in the body. Big gas-producing foods are:
Avoiding or limiting these foods will relieve the gas buildup in your body.
Move Your Body
Gas pain can move around your intestinal area and land in uncomfortable places under the rib cage, giving you sharp pains that have you bent over in pain. If you can take a walk, this will move the gas down to your anus and relieve the pressure and pain buildup.
If you cannot walk, try getting on all fours, lower your elbows and head to the ground, pushing your pelvis and hips upward. Relax in that position to allow the gas to move upward and out.
Another position is to lay on the bed or floor and pull your right leg up to the chest, then lift and straighten it, then lower it back down. Alternate legs. This motion again helps gas pass and helps with belching.
Take Something
Antacids will help with gas that is in the stomach. Products such as Mylanta, Maalox or herbal drops can relieve some belching, but to stop the gas from going to your intestines, where the methane gas gets produced, you would have to take these drugs in advance of eating. Chelidonium is an herbal extract that can reduce gas pain.
Watch for Symptoms
If, once you pass gas, your pain symptoms are still present, seek medical attention. Your body uses pain to tell you that something is wrong. Diverticulitis and irritable bowel syndrome are two serious, but treatable disorders that need medical attention. Watch for these symptoms: