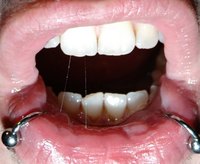 Most piercing salons offer lip piercing for less than $70, jewelry included. For those who want a lip piercing, it pays to shop around to get the most cost-effective and safe captive bead ring available.
The Cost of the Jewelry
Lip jewelry ranges in cost, depending on the type of jewelry and point of purchase. Online shops sell body jewelry much cheaper than a mall store or piercing parlor. A $1.99 14-gauge captive ring on the Body Candy website might sell for up to $15 at a piercing parlor. Mall outlets such as Hot Topic might sell the jewelry for slightly less than that. Ask your piercer whether he allows customers to bring their own jewelry rather than purchasing from the shop. Also ask for the specific type and size of ring to purchase. Often, the piercing parlor will charge just for the piercing itself--a substantial savings over getting both the piercing and the jewelry.
Variety of Metal
Another factor in lip ring cost is the type of metal used in the jewelry. A stainless-steel lip ring sells for as little as $1.99, while a titanium ring costs $5.99 to $6.99. Gold rings are the most expensive by far. A 14-karat white gold 14-gauge captive bead ring costs almost $50; the same option in white gold cost a few cents less. For the most part, silver is not an option because its porous nature and propensity to tarnish creates an environment for easy infection. Because of cost and versatility, stainless steel is usually the metal of choice.
Types of Captive Beads
A cheap, basic lip ring will have a stainless-steel captive ring. However, lip rings are produced with a wide variety of beads. The least expensive is steel, with precious gems being the most costly. There also are beads produced from Swarovski crystal, generic rhinestone beads, plastic beads and titanium beads. A vendor with a wide selection might carry loose beads that will fit certain ring gauges, allowing the customer to change the bead.
Residual Health Cost Considerations
What is harder to calculate are the associated costs of having a lip piercing. Lip rings can come with hefty dental fees down the road. The ring's continual rubbing and clicking against the front teeth can lead to enamel damage and chips, as well as accelerated wear and tear.
Is a Lip Piercing Worth It?
A lip piercing falls into the middle of the body piercing cost spectrum, yet comes with health issues. If the piercing will stay in for a while and does not need to be removed for professional reasons, the money outlay is worth it. For those who will need to take the ring out after a year or so, a lip piercing might not be worth the cash.