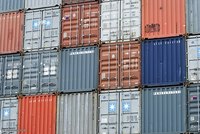 Whether you're shipping multiple container loads or a single package, you're an exporter. As an exporter, you're expected to comply with certain common-sense rules and some fairly sophisticated laws, for both the United States and for the destination country. If it's a single package, you can probably take care of the packing and paperwork yourself or, like a large shipper, you can use a freight forwarder--a specialist in the preparation and documentation of international shipments.
Freight Forwarders
International freight forwarders are professionals; in the United States, they are licensed by the International Air Transport Association if they handle air freight and the Federal Maritime Commission if they work with ocean freight. They act as your agent in sending goods overseas. They know the import rules and regulations of the destination country and the U.S. export rules The freight forwarder will advise you on the cost of shipping, on packing your shipment, arrange for insurance, take care of your documents and even make sure your shipment is transported to the plane or ship.
Some freight forwarders may also be customs brokers, who arrange for the payment of fees and tariffs and ensure the proper release of goods once they have reached their destination.
Packing
Most cargo, even small shipments, is carried in 20-foot highway containers. Some, though, is still carried as breakbulk cargo: individual boxes or crates that may be loaded by a net or sling. They may have other cargo stacked around them or on top of them. Once the freight reaches its overseas destination, it can be lifted, rolled, thrown or otherwise damaged during unloading, during customs inspections or while on its way to its final drop-off point.
Adding insult to injury, the cargo might be unloaded in the rain and left sitting on an airport's ramp or a port's staging area. Depending on its destination country, it may also be stolen as soon as it is unloaded.
Packaging is the first line of protection against damage. There are four reasons freight is damaged in the export trade: breakage, theft, condensation within a package and excess weight. Always follow your freight forwarder's recommendations on packaging and the forwarder's recommendations on insurance.
Labeling
Your package has to be labeled to meet regulations and to make sure it receives the required level of care in handling. It might be labeled to avoid advertising its contents, while complying with the letter of the law, and in such a way that the receiver can identify its contents. It also must be labeled for compliance with safety and environmental regulations, if any, in the destination country.
The usual markings include the country of origin, weight, number of packages in a single shipment, precautions to be observed and hazmat labels, all in the language of the country of origin and in the language of the destination country. If other labeling is required, your freight forwarder will advise you.
Documentation
Documentation is formidable. Air freight waybills are non-negotiable, as are straight bills of lading for seaborne freight. A shipper's order bill of lading used in ocean freight is negotiable, meaning that the bill of lading can be sold, bought or traded while the cargo is in transit. The receiver usually has to have a an original bill to take possession of the goods, once they have cleared customs in the destination country.
Other documentation may include a invoice between the seller to the buyer, consular invoices with information on the shipper and receiver and the value of the goods and a certificate of origin, showing where the goods were produced--a NAFTA certificate of origin is required for goods traded between the United States, Canada and Mexico.
The U.S. Postal Service requires a shipper's export declaration when it transports goods worth more than $500 and for any shipment to countries on its List of Restricted Countries.
Given the plethora of pitfalls related to documentation, using a freight forwarder is recommended; however, help is available for the individual through Export Assistance Centers (www.doc.gov), the Trade Information Center at (800) USA-TRADE) and foreign embassies and consulates.
Shipping, Insurance and Tariffs
More and more shipments overseas are made with through an intermodal contract with a straight bill of lading. Usually, the contract is with one of the transportation companies who takes charge of the whole shipment process and acts as a freight forwarder, like FedEx or UPS.
Both of these firms offer insurance for air freight; ocean freight, though, is covered by marine cargo insurance, which will be available through the ocean freight forwarder.
Tariffs are also called cabotage laws, economic protection laws or other, less remarkable terms. They are usually paid by the receiver when claiming the goods from customs at the destination. Certain countries, however, have unofficial policies whereby the exporter must pay certain sums in U.S. dollars for its goods to be allowed to be offloaded to the airport or ashore or without incident.
Consult with your freight forwarder regarding the potential for these special fees.