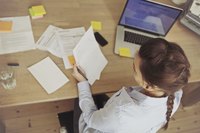 The idea of being your own boss and setting your own hours from the comfort of your abode can make developing a home-based business an intriguing thought. Find a spot in your home where you can work and identify what you're good at. Then do some research to see if there's a market for your talents. Just remember to step away from your office now and then. It's easy to work long hours when your office is in the next room instead of across town.
Arts and Crafts
Having an interest in creating handmade items can provide a way to make money by selling arts and crafts. While you can set up your own website to sell what you make, sites such as Etsy.com, ArtPal.com and Aftcra.com allow you to easily list and sell items for a fee. Include space in your home for setting up a light table or tent that provides proper lighting for photographing your handiwork, a key step in convincing people to buy. Rent a booth at local craft fairs, farmers markets and gift shows to start building a following.
Repair Shop
If you have a knack for fixing things like watches, computers or cameras, you might find plenty of customers nearby. Set up a workbench in your home, gather your tools and get ready to go to work. Tell your neighbors and local businesses about your shop. Offer pick-up services for heavier items so people don't need to come to your house to drop things off. Promote your business by appealing to your target market. If you repair business or government computers, network at chamber of commerce meetings and let business owners and office managers know you're available.
Software Skills
A fast set of fingers and experience with specific types of software are the basic requirements for starting a business based on your computer skills. For instance, you can start a medical claims processing business. However, you'll be ready to roll more quickly if you're familiar with insurance and medical terminology. Another option is offering legal or medical transcription service. You'll need standard transcription equipment, including a foot pedal and word processing software, to transcribe digital audio files for local and national clients. The advantage of this kind of business is that it can be done from anywhere.
Freelance Services
Specialized tasks, such as writing, editing, graphic design, marketing and video production can be done in the comfort of your home. Since you can meet with clients in their offices or via the Internet, you don't need a fancy office or reception area. You still need equipment specific to your services, which can get expensive. For instance, if you want to create product videos you need a computer, video camera, sound equipment, lighting, video-editing software and a small area set up with a screen or blank wall against which to shoot the videos.
Bed and Breakfast
Turn that extra bedroom into a moneymaking business. Figure out why people might want to stay in your home, such as any unique architecture, interesting history or tourism activities in your immediate area. You also need enough space to serve your guests breakfast and any other meals you plan to offer. Make sure you adhere to all zoning laws in your area before you start advertising.