The pH value in aquarium water refers to how alkaline or acidic the tank water is by measuring the hydrogen ions. Tests record the pH levels in numbers from 1 to 14, with 1 meaning the water is far too acidic and 14, far too alkaline. Pure drinking water should be 7. A fish's ideal pH level varies according to species. According to "The Everything Aquarium Book," saltwater tanks can do all right with levels up to 8.3.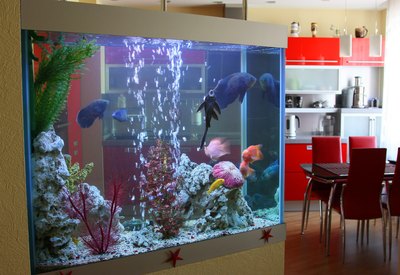 Significance
A high pH level means that the water is turning more alkaline because the water is lacking enough CO2 (carbon dioxide). Any tanks with live plants particularly need CO2 in order to keep the plants alive. CO2 is necessary in order to make oxygen. If there is a CO2 crash, then soon an oxygen crash will occur, which will kill the fish and plants.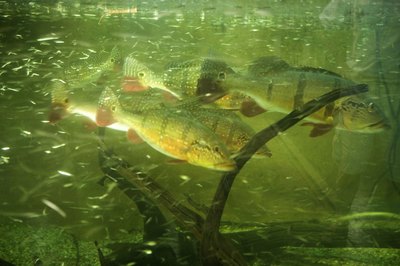 Rocks
According to "The Everything Aquarium Book," some decorative rocks or gravel used in tanks can cause an increase in pH levels when the water begins to dissolve them. These rocks include dead coral, coral sand, dolomite chippings and calcium carbonate. It's thought that these release lime, which in turn decreases CO2.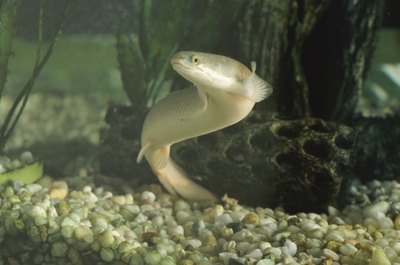 Replacement Water
Test the pH levels of your tap water to determine if that could be the source of the sudden pH spike. There are many pH test kits available in pet shops. Also look in hardware stores for water hardness kits, which also measure the water's pH. Too much sea salt can also raise pH levels, so check the pH levels of any replacement saltwater from marine tanks to be sure that's not too high. If it is, make a new batch with less sea salt.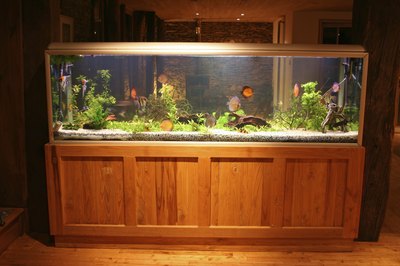 Over Treatment
Have you recently had a pH level that was too low and you needed to raise it? Perhaps you did so successfully. "Tropical Fishlopaedia" mentions that many commercially made pH-lowering water treatments can work too quickly or that it can be easy to add too much of the chemicals.
Warning
Even if the pH level is dangerously high, do not lower it too quickly. Do it gradually through partial water changes and by removing any objects that may raise pH levels. Lowering the pH of the tank water rapidly will not give the fish time to adjust to the water changes, and they may die of shock.