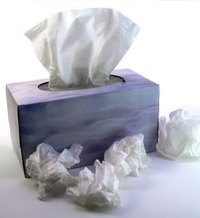 Influenza is an illness that should not be treated lightly. In fact, Influenza.com explains that influenza is responsible for the deaths of approximately 36,000 Americans per year. An influenza infection is especially dangerous to the elderly and children under the age of five who may not have a fully developed immune system. Influenza (the flu) is highly contagious and sometimes confused with the common cold; however, the effects of influenza are much more serious.
What Is Influenza?
According to the MedicineNet.com, influenza affects the respiratory tract and can be caused by several different viruses. The viruses that are responsible for influenza are usually broken down into the categories of A, B or C; each individually labeled according to its surface proteins. The viruses that cause influenza are unique to the winter season, and difficult to combat because the viruses often mutate (change) on a yearly basis. The effects of influenza often last for approximately one week.
High Fever
The World Health Organization (WHO) reports that the first noticeable side effect that is associated with an influenza infection is a sudden, high fever. Body temperature is considered normal at 98.6 degrees F, and a fever becomes suspect when the temperature rises one degree above the norm. A fever is considered high when it reaches or exceeds 103 degrees F.
Muscle Pain, Weakness and Headache
Muscle pain and weakness due to inflammation are a common occurrence with influenza. According to Merck, the pain and weakness that are associated with influenza are often centered on the legs. Dangerous complications that require immediate medical attention can arise during a bout of influenza that involves further inflammation of the muscle surrounding the heart and lungs, but the scenario is quite rare. The development of a headache is also common in patients who are diagnosed with influenza.
Cough and Runny Nose
The U.S. National Library of Medicine reports that the cough that accompanies influenza often starts out dry in nature. Unfortunately for some, a dry cough can quickly change to a persistent cough that involves a runny nose and thick mucus. Bronchitis or pneumonia can also become a factor as the influenza virus progresses and more mucus forms. In some cases, shortness of breath can result. A change in cough symptoms requires a trip to a physician's office for further treatment that can clear the mucus and prevent a dangerous lung infection.
Sweating and Chills
A patient suffering from influenza will often experience profuse sweating accompanied by chills. The University of Illinois Medical Center explains that chills are a result of muscle contractions that occur when the body faces a sudden rise in temperature due to an infection. As the body begins to defend itself against the influenza infection, profuse sweating can occur. Sweating is the body's way of cooling itself down and lowering body temperature.
The Vaccine
The Centers for Disease Control and Prevention reports that there are two types of vaccinations that can guard against influenza---flu shot and nasal spray. The flu shot is recommended for people ages 6 months and older. The nasal spray version is suitable for ages 2 and older. Antibodies to fight an influenza infection begin to develop within two weeks of inoculation and can help to reduce the risks of contracting influenza or at least minimize the symptoms in those who become infected.