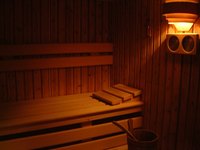 With an extensive history in Europe--and a growing popularity in North America--the sauna provides many health benefits. It's also a source of relaxation. Common to Scandinavian culture, especially in Finland and Sweden, the hot sauna session is usually followed by a plunge into a cold lake or bath to "awaken" and energize the body. For some people, the sauna is also used as an aid in weight-loss.
Features
Saunas are enclosed, heated spaces. They are often constructed of wood. Sauna users relax on benches along the walls--either wrapped in a towel, wearing a swim suit or wearing nothing at all. Unlike steam rooms or steam baths, the sauna uses dry heat with very low humidity levels. Temperatures range from 60 to 100 degrees Celsius, producing a thermal effect on the body.
Function
The high temperatures of saunas cause the body to try and lose heat through the lungs and skin. The body temperature and heart rate rise in reaction to the extreme heat of the enclosed space, and sweating occurs. The longer the sauna session, the more the body temperature will rise. Because it cannot sustain its original temperature, the body must adjust to accept the heat. Thus, the more sweating that will occur. Also, circulation increases, and the muscles relax.
Effectiveness in Weight Loss
The dry sauna's high temperatures kick the metabolic levels of the body into high-gear, inducing aggressive sweating that not only detoxifies the body, but causes weight loss as well. Steam baths also have this effect. However, the weight lost in the form of perspiration is water weight, meaning that total weight loss as a result of sauna sessions is temporary. The body naturally balances the amount of water it holds, and the weight lost through sweating will be quickly absorbed with the next glass of water.
Session Lengths
How long you choose to stay in the sauna depends on the sauna's temperature and how your body adjusts to the heat. Some users enjoy sessions of ten to twenty minutes, plunge into cold water, and return for another brief session of five to ten minutes. Some sauna enthusiasts encourage sessions of an hour or longer. Thin, frail bodies may not be able to handle a lengthy session. (The body will definitely let you know if it has been too long, by exceeding relaxation into weakness or feeling faint.) Half-hour to hour-long weekly sauna sessions are common in Scandinavia.
Considerations
Since water weight loss is temporary, the sauna should not be used as a method of fat loss. A healthy diet and exercise should be used in conjunction with sauna sessions for the ultimate goal of losing weight, since the loss of fat (not water) is the result of burning calories. Also, because saunas use dry heat, it is important to use moisturizing lotion after the post-sauna shower, since sauna use can dry out the skin.