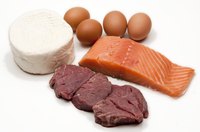 If your child's doctor has suggested he gain weight, or if he has an underlying medical condition, he may need more protein in his diet. According to the U.S. Department of Agriculture Dietary Reference Intake charts, a 4- to 8-year-old requires just 19 grams of protein daily -- the amount in just over 2 ounces of chicken -- while 9- to 13-year-olds need 34 grams daily. Most kids should have no problem achieving these levels with a balanced diet. Kids on a high-protein diet should follow doctor's orders in terms of how much protein to add and can then choose from a variety of whole foods.
Meats, Poultry and Fish
All meat, poultry and fish offer about 9 grams of protein per ounce. Your child might not be willing to dig into a fillet of beef or a tranche of salmon, however. Opt for kid-friendly versions of these foods: offer beef jerky, tuna or chicken salad or whole-grain breaded all-meat chicken nuggets.
Dairy and Eggs
Eggs provide 6 grams of complete protein that kids usually enjoy. Try scrambled eggs mixed with cheese, which ups the protein content, or use them to form a sweet custard with milk and sugar. Milk provides about 8 grams of protein per cup of 2 percent, and milk with added milk solids contains about 10 grams per cup. Cheese and yogurt are other kid-approved protein foods. If your child isn't a fan of these foods on their own, mix them into foods they do enjoy. Add liquid or dry milk to hot cereal and soups; mix cheese into casseroles and potatoes; whip yogurt along with fruit into a smoothie.
Nuts, Seeds and Beans
With about 7 grams of protein per 2 tablespoons, peanut or almond butter provides a protein punch. Pack a traditional peanut butter sandwich or create a dip for fruit using nut butter, yogurt and maple syrup. Encourage your child to eat whole nuts and seeds by mixing them with dried fruit and dark chocolate chips. Toss nuts on top of cereal, add them to pancake batter or puree them into smoothies. Make dips with black or pinto beans and cheese, or add mashed beans to a traditional cheese quesadilla. Kids may also enjoy hummus with baked pita chips or cut-up carrots. Purchase edamame pods frozen and have your child suck out the beans as a quick snack.
Picky Eaters
Add protein-rich items to foods your child already enjoys to encourage him to indulge. For example, mix dry milk powder into macaroni and cheese or blend silken tofu into a fruit smoothie. If your child is resistant to whole foods, ask your doctor about using supplemental proteins such as protein powder or commercial ready-to-drink protein shakes.