If your baby has a runny nose it could be just a cold, but it might also be the start of a more severe illness. Pneumonia, which affects the lungs, commonly occurs in winter or spring, although your baby can get it anytime during the year. Pneumonia typically develops after colds or upper respiratory infections, so watch your baby closely for other symptoms if he's sneezing or coughing.
Significance
According to the University of Maryland Medical Center, pneumonia sends more than 150,000 children to the hospital every year. The center also warns that having pneumonia in childhood increases the risk of developing respiratory problems in adulthood. According to the Mayo Clinic, young children face a high risk of getting pneumonia because their immune systems haven't fully developed.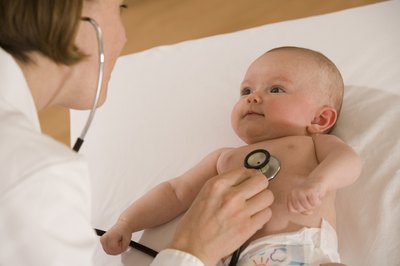 Symptoms
If your baby is running a fever or has a persistent cough, she could be suffering from pneumonia. Watch for other common symptoms, including diarrhea, weakness, poor feeding, chills and difficulty breathing. Vomiting can occur when pneumonia is present in the lower area of the lungs. Viral pneumonia often starts out with common cold symptoms, such as a stuffy nose. If your baby experiences a sudden and severe onset of fever, coughing, or breathing problems, she might have bacterial pneumonia.
Seek immediate medical help if your baby's skin begins to turn a bluish color, since this is a sign that she's not getting enough oxygen. Call the pediatrician if your baby is breathing rapidly or if her temperature climbs above 102 degrees Fahrenheit. If she's under 6 months old, call if she runs a fever of 100.4 degrees Fahrenheit or higher.
Causes
A variety of viruses and bacteria can cause pneumonia. Viruses responsible for pneumonia in babies up to 3 months old include group B streptococcus, or GBS, and respiratory syncytial virus, or RSV. For babies older than 3 months, parainfluenza virus, flu virus, and adenovirus can lead to pneumonia. Although viral pneumonia tends to be less severe, having it can make it easier for your baby to get bacterial pneumonia.
Streptococcus pneumoniae, Staphylococcus aureus, and Chlamydia pneumoniae can all cause bacterial pneumonia. Viral pneumonia occurs more frequently than bacterial pneumonia. The viruses and bacteria that cause these infections can be transmitted from person to person by inhaling secretions such as mucus or touching contaminated objects.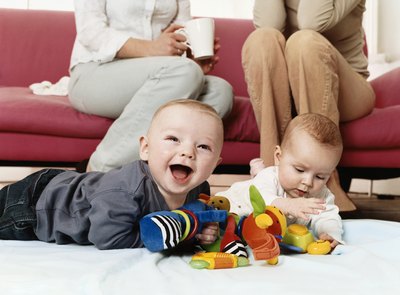 Treatment
Most cases of pneumonia can be treated with bed rest and plenty of fluids to prevent dehydration. Bacterial pneumonia also requires the use of prescribed antibiotics for treatment. Putting a cool mist humidifier in your baby's room will help keep the air moist and relieve congestion. You can also ask your baby's pediatrician if you can give your baby acetaminophen or another infant pain reliever for a fever.
Some conditions might require hospitalization, such as respiratory distress, high fever or a lung infection in the bloodstream. If your baby's infection results in a hospital stay, an IV will keep him hydrated with fluids. The IV also will provide him with antibiotics if he has bacterial pneumonia. An oxygen mask or tube might be used to regulate breathing. Pneumonia generally clears up within one week but coughing can continue for weeks.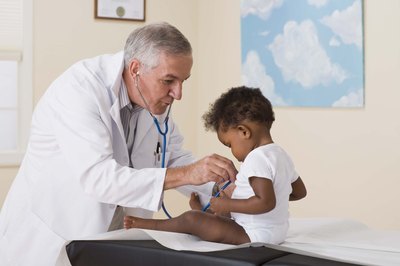 Prevention
Make sure your baby receives her routine vaccinations. Those that protect against illnesses such as pertussis, measles and Haemophilus influenza help prevent pneumonia. Your baby should also receive the pneumococcal vaccine, which provides protection against bacterial pneumonia.
Wash your hands often and wipe down surfaces in your home that contain the most germs, such as phones, door handles and toys. If your baby has a cold, avoid bringing her out in public and exposing her to other illnesses.