If your baby is sniffling and sneezing, keep an eye on him for symptoms of a more serious condition. Bronchiolitis develops when a virus enters your baby's respiratory system and causes the bronchioles, the smallest airways in the lungs, to become swollen and irritated. Mucus collects in the bronchioles and interferes with the flow of air through the lungs. Although the infection generally clears up on its own, some babies could develop severe cases that require immediate treatment.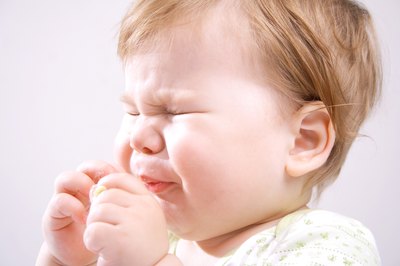 Significance
Babies between 3 and 6 months old face the highest risk of developing bronchiolitis because their immune systems and lungs haven't matured yet. According to the Mayo Clinic, boys suffer from this respiratory infection more often than girls. Other risk factors include being exposed to tobacco smoke, being around other children at home or in a daycare setting, and not being breastfed. In premature babies, babies with heart or lung conditions, and babies with weakened immune systems, bronchiolitis can become severe and even life-threatening.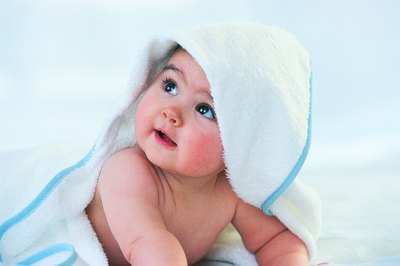 Symptoms
Bronchiolitis starts off with common cold symptoms, such as a runny, stuffy nose and possibly a mild fever for two to three days. Over the next few days, you might hear your baby wheezing as breathing becomes more difficult. Your baby might also have a rapid heartbeat. The symptoms generally subside in seven to 10 days, unless your baby faces an increased risk of developing a severe infection, such as being born prematurely. Symptoms of severe bronchiolitis include cyanosis, or bluish skin resulting from lack of oxygen, and rapid, shallow breathing. Your baby needs immediate medical attention if you notice these signs or other symptoms such as vomiting, lethargy, or refusal or inability to take in any liquids. A severe infection can rapidly become worse and lead to severe respiratory failure, which can be fatal if left untreated.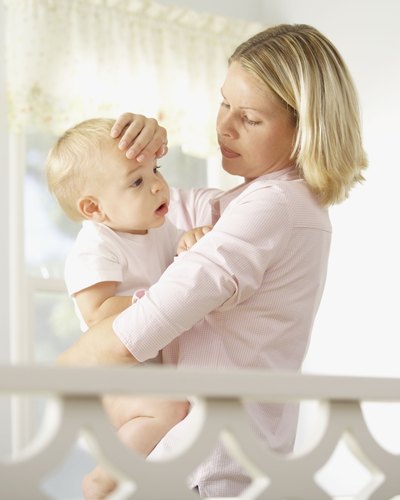 Causes
A common virus known as respiratory syncytial virus, or RSV, causes the majority of bronchiolitis infections in babies. Other viruses, such as the flu and common cold, can cause bronchiolitis as well. Combinations of RSV and other infections can cause severe cases. The virus enters your baby's respiratory system if she inhales infected mucus and other secretions or if she touches her eyes, mouth or nose after handling a contaminated object. Your baby could experience repeated RSV infections after the initial one, but these are generally mild.
Diagnosis
Your baby's pediatrician will listen for wheezing or other signs of an obstructed airflow and might take a mucus sample to check for viruses. A chest x-ray might be used in severe cases so that pneumonia or a foreign object in the lungs can be detected. A blood test that shows a higher number of white blood cells indicates that your baby's body is fighting infection. Your baby's oxygen levels in the bloodstream can also be checked with a blood test. The pediatrician might also look for dehydration signs, such as dry skin, sunken eyes or sluggishness, especially if your baby has had trouble taking in fluids.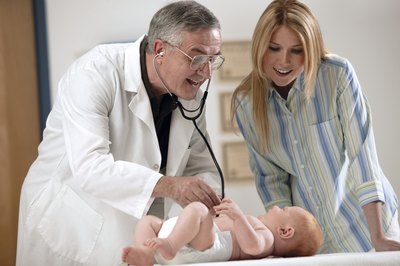 Treatment
Mild cases of bronchiolitis can be treated at home. You'll need to let the infection run its course, but you can relieve your baby's discomfort in the meantime. Reduce coughing and congestion by keeping the air in your baby's room moist with a vaporizer or cool-mist humidifier. Make sure his room is warm, but don't let it get too hot since this can increase dryness. Let your baby spend time in a car seat since the upright position can help him breathe easier. Keep his head propped up so that it won't fall forward in the seat while he sleeps. Consult your baby's pediatrician about using pain relievers, such as acetaminophen for infants, for a sore throat. Never give your baby aspirin since doing so can lead to Reye's syndrome. For severe cases of bronchiolitis, your baby might need to be hospitalized to prevent dehydration and maintain enough oxygen in the bloodstream. A bronchiodilator or medications to help open the airways might also be prescribed.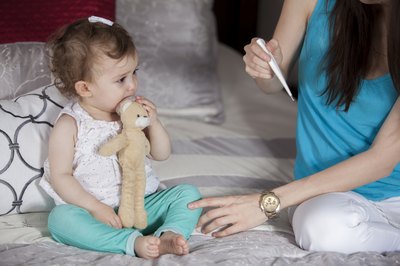 Prevention
Wash your hands, especially when you're sick, to avoid increasing your baby's risk of catching a virus. Clean kitchen and bathroom countertops in your home thoroughly if anyone in your family is sick to prevent the spread of germs. If your baby is younger than 2 months old, keep her away from people with colds since her immune system is highly vulnerable during this time. If your baby is already sick, keep her at home to prevent spreading the infection.