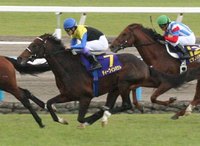 Whether your horse is an Olympic quality jumper, a racing Thoroughbred, or a backyard pleasure horse he is an athlete. Like all athletes breathing problems severely affect their abilities. Breathing problems are usually caused by a form of COPD commonly called heaves. Breathing problems in horses almost always means loss of use and a great inconvenience for the owner and sad loss of pleasure pastime for enthusiastic riders.
Causes
The two main culprits of equine breathing problems are allergies and stress. A common cause of allergies in horses is moldy hay and/or grain. Horses spend large quantities of time with their noses shoved into their food sources. When those food sources are full of allergens they are breathing damaging contaminants into their lungs. Stress-related COPD in horses is caused by working a horse too fast before it is built up, or ready for the type of work presented. Most often found in racing Thoroughbreds, COPD is finding its way into big-money sporting events such as jumping as horses are pushed too fast at a young age to compete.
COPD
COPD (chronic obstructive pulmonary disease) is the breathing problem in horses that causes the most distress. Unlike the human form of COPD in horses it is rarely caused by smoke-related inhalation. Pollution may or may not cause a larger degree of occurrence in modern horses, but it is more often bad feed or overwork that brings on this problem. COPD is more commonly called "heaves" by horse owners, and was once called "broken wind" because as soon as that horse was put to work, or run for a short distance, he would cough, gag and have genuine difficulty breathing. Two types of COPD affect horses: RAO and SPAOD. RAO, the most common form of COPD, is caused by dust and mold in bedding or feed. SPAOD is caused by airborne allergens from pollen in fields or pastures.
Symptoms
Breathing problems in horses show up the most during periods of heavy work. Early in the onset of COPD a horse can even work well for a short period of time before showing signs of difficulty such as coughing or inability to breathe. When the problem becomes more severe the horse may start wheezing and heaving at the slightest exertion or movement. There will also be a general lack of energy which is most often caused by a desire to avoid the actions and work that will make it difficult to breathe. Horses suffering from allergy types of COPD often show a significant weight loss due to avoiding moldy food sources.
Remedies
Breathing problems in horses are better treated by prevention than cure. Feed only clean hay sources. Always warm your horse up well before heavy work including fast spurts of running, or jumping. Symptoms of COPD caused by allergens are usually quick to disappear when the source of aggravation is removed. "Broken wind" or COPD caused by stress requires stall rest and light work until the system can rebuild itself to handle heavier work. COPD brought on by stress may never disappear completely. Horses who are "winded" (suffering from stress related COPD) may return to lesser levels of work after a period of recovery or require permanent retirement due to the damage done to the lung tissues.
Strangles
Another, more sinister, ailment is a medical condition known as strangles that is often fatal and should be seen by an equine veterinarian immediately.
Strangles is a much rarer occurrence, but is extremely contagious. Any animal showing signs of strangles--including lumps in the upper throat area and possible rupture of the lump area draining a puss from the inside--should be isolated immediately to prevent contamination. The drainage from a strangles infection can live in dirt for years and continue to contaminate any animal that comes in contact with it.