Getting your daily vitamin C doesn't mean you must drink a glass of orange juice every morning. A variety of fruits and vegetables are good sources of vitamin C. You can even get more than an entire day's requirement from one serving of a few foods. If you run out of natural sources, expand your menu to include foods fortified with vitamin C. With such diverse choices, it's easy to get your recommended vitamin C from foods that deficiencies rarely occur.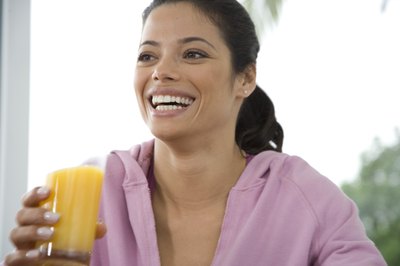 Vitamin C Basics
In 1747, a British naval surgeon discovered that citrus fruits prevented scurvy in sailors. It took another 178 years for the active ingredient to be isolated, then another six years before it was identified as vitamin C.
Now scientists know that vitamin C is essential for producing collagen, which is a connective tissue that supports bones, skin, blood vessels and tendons. Vitamin C is also an important antioxidant and is used for producing neurotransmitters and metabolizing protein.
Women need 75 milligrams of vitamin C daily, while men should get 90 milligrams.
Top Vitamin C Fruits
Whether you eat an orange or drink a cup of orange or grapefruit juice, you'll get more than an entire day's requirement for vitamin C. But one papaya, a kiwi fruit and a cup of strawberries also provide about 100 percent of your daily intake, and a guava has double the amount found in an orange.
For a huge boost of vitamin C, try acerola juice. Just one cup delivers more than 1,000 percent of the daily value based on consuming 2,000 calories daily.
A serving of peaches, apples, blueberries, grapes or raspberries deliver 10 to 15 percent of the daily value.
Diverse Vegetable Choices
One-half cup of raw sweet peppers provides an entire day's requirement for vitamin C. The same serving of cooked broccoli or Brussels sprouts has around 80 percent of the DV, or you could go with raw cauliflower and cabbage and still get half your daily vitamin C.
Soybeans are also good sources of vitamin C. Vegetable choices that contain 10 percent to 30 percent of the daily value include baked potatoes, tomatoes, spinach, green peas, corn and squash.
Vegetable juices are usually excellent sources of vitamin C, but check the label because the amount varies.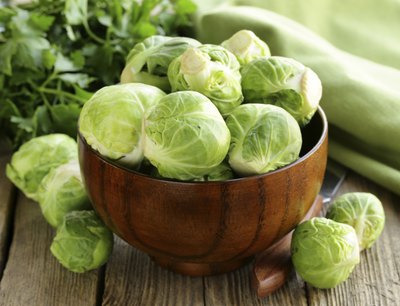 Animal-Based Sources
Very few animal-based foods contain vitamin C. The best sources are organ meats that you won't usually find in grocery stores, such as lungs, spleen and brain. However, a 3-ounce serving of cured ham and corned beef has 21 milligrams of vitamin C. The same portion of chicken liver has 16 milligrams.
Fortified Foods
Many ready-to-eat cereals are fortified with vitamin C in the form of ascorbic acid, but that amount varies among products. Some fortified cereals have as much as 70 milligrams of vitamin C, but most have 15 to 20 milligrams per serving.
You can also boost your intake with enriched fruit juices. Apple juice is just one example of the benefits of enriched products. One cup of enriched apple juice has 60 milligrams of vitamin C, compared to 1 milligram in plain apple juice, according to the U.S. Department of Agriculture.