Fever and vomiting in children often go hand-in-hand with each other as a result of stomach or food issues. Fever is usually treated with over-the-counter fever reducers while vomiting often must run its course. Both fever and vomiting are the immune system natural process of eliminating germs, viruses and bacteria from the body and are usually necessary for children to begin to feel better from an infection.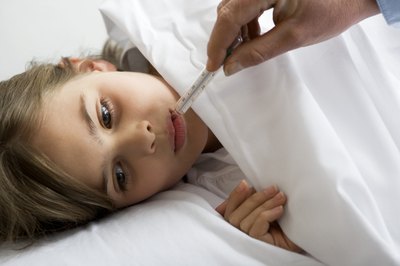 Causes
Acute gastroenteritis is one of the most common culprits for causing fever and vomiting in children and is usually the result of a stomach virus such as rotavirus. Acute gastroenteritis and stomach viruses can cause additional symptoms such as diarrhea and stomach aches. Fever and vomiting in children may also be caused by food poisoning with can also cause nausea, diarrhea and abdominal cramping.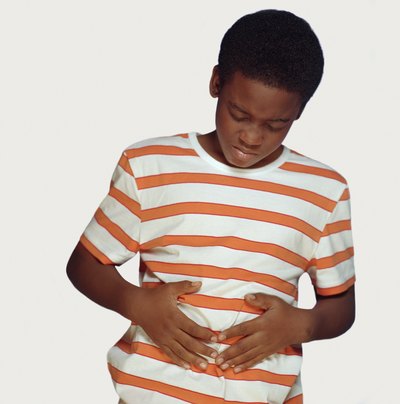 Treatment Options
There is not a cure for viruses caused by acute gastroenteritis and there are not treatments available to resolve the condition. Fever and vomiting in children due to acute gastroenteritis and stomach viruses will most likely have to resolve on their own, and typically last for two to three days. Parents need to encourage children suffering from fever and vomiting as a result of acute gastroenteritis to drink plenty of fluids to prevent dehydration. If your child is unable to keep fluids down, offer ice chips or 1 to 2 ounces of fluid every 20 minutes. Food poisoning is treated in the same manner of acute gastroenteritis, and must work its way through a child's system, but may only take 12 hours to a few days to resolve. Children experiencing food poisoning must also drink plenty of fluids to prevent dehydration, kidney failure and even death.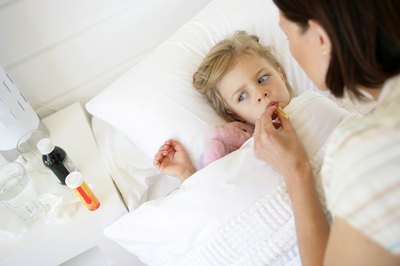 Alternative Treatment Options
If you are trying to treat your child's fever but the vomiting symptoms are preventing them from keeping the medication down, try over-the-counter acetaminophen suppositories. Pay close attention to dosing charts to make sure you give your child the correct amount of medication. Children usually feel better after taking a lukewarm bath to bring high fevers down. Fever tends to drop within the first 15 minutes of taking a bath and children can then be dressed in cool clothing to remain comfortable.
Considerations
Traditional, glass thermometers seem "old-fashioned" but, used under the arm, work best at measuring accurate fever results for children suffering from fever and vomiting. Modern, digital thermometers provide faster results but can lose a few degrees of accuracy in comparison to glass thermometers. Ear thermometers are also a popular alternative to glass thermometers but can also vary in accuracy, and parents usually need to take multiple measurements to confirm results.
Prevention/Solution
Preventing your child from getting fever and vomiting as result of a viral infection may prove to be almost impossible. Children who attend daycare and school are exposed to many viruses and may experience a series of infections. Stomach viruses are easily spread yet can be prevented by regular hand washing. Teach your child to wash his hands regularly throughout the day, especially before meals, after using the restroom and after contact with pets.