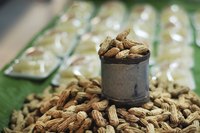 A popular Southern snack, boiled peanuts are made by boiling young or raw peanuts in their shell in salt water for several hours. Like other nuts and legumes, boiled peanuts offer lots of nutritional benefits, so they're welcome in a health-conscious diet. Just watch your portion size -- boiled peanuts are dense in calories and moderately high in sodium, so you don't want to overdo it.
Calories, Protein and Vitamins
A 1-ounce serving of boiled peanuts, or approximately 33 nuts out of the shell, contains 90 calories and 6 grams of carbohydrate. It also delivers nearly 4 grams of protein, which is slightly under 10 percent of the recommended daily intake for women and 7 percent of the RDI for men. Protein is necessary for the body to produce strong bones, muscles, skin and hormones. This size serving delivers a small amount of vitamin E and members of the B vitamin family -- less than 10 percent of the RDI -- but these vitamins are essential for maintaining the nervous system as well as healthy skin and body tissues.
Mineral Content
Boiled peanuts offer a range of essential minerals, including manganese. A 1-ounce serving contains 0.3 milligrams of manganese, or 13 percent of the recommended daily intake for men and nearly 17 percent of the RDI for women. Manganese plays an important role in maintaining healthy bones, wound healing and food metabolism, according to the Linus Pauling Institute. Other minerals in a 1-ounce serving of boiled peanuts, in much smaller amounts, include copper, magnesium, phosphorous, zinc, calcium, iron and selenium.
Fiber Content
A 1-ounce serving of boiled peanuts contains 2.5 grams of fiber, or roughly 10 percent of the recommended daily intake for women and 7 percent of the RDI for men.Increasing your fiber intake helps lower your cholesterol and reduces your risk of diabetes, heart disease, obesity and certain types of cancer, according to a 2010 report from the National Institutes of Health.
Fat Content
Boiled peanuts contain 6 grams of fat in a 1-ounce serving, but 5 of those are healthy monounsaturated and polyunsaturated fats. These fats help prevent inflammation and heart disease as well as lower cholesterol, according to a review in a 2008 issue of The Journal of Nutrition. Don't avoid eating boiled peanuts because of fear that their high fat content may cause weight gain. A report in the 2014 American Journal of Clinical Nutrition notes that nut and peanut consumption is not associated with weight gain and that the fat content is partly responsible for this benefit, because it increases feelings of fullness.
Resveratrol Content
The same substance that gives red wine its health benefits is also in boiled peanuts -- a natural compound called resveratrol, or trans-resveratrol. A review in a 2014 issue of Critical Review in Food Science and Nutrition notes that resveratrol plays a role in reducing your risk of heart disease, Alzheimer's disease and various types of cancer.
Drawbacks from Sodium
If you're looking to cut back on sodium, boiled peanuts aren't your best choice. On average, a 1-ounce serving may contain up to 213 milligrams of sodium, or 14 percent of the American Heart Association's recommended daily intake of 1,500 milligrams, though the sodium content can vary depending on the level of salt in the boiling water. Consuming too much sodium may lead to high blood pressure and put you at risk for heart disease. If you're on medication for hypertension, check with your physician before adding products high in sodium, such as boiled peanuts, to your diet.