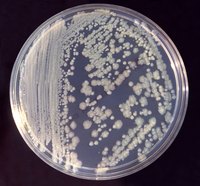 Enterobacter cloacae is an opportunistic pathogen. This means that it causes disease after its host has already been weakened, for example, by another infection. According to the CDC, Enterobacter cloacae is responsible for bacteremia, endocarditis, osteomyelitis, septic arthritis as well as infections in the skin, respiratory tract and urinary tract. Many of these infections are nosocomial. That is, they result from hospital treatment.
Shape
Enterobacter cloacae is rod-shaped. On average, rod-shaped bacteria, or bacilli, measure 0.5 to 1.0 µm wide by 1.0 to 4.0 µm long. Enterobacter cloacae measures 0.3-0.6 x 0.8-2.0 µm, making it small compared to other bacilli.
Motile
Enterobacter cloacae has motility by means of peritrichous flagella. "Peritrichous" indicates that the bacterium has flagella spread across its entire surface, allowing it to move easily in all directions.
Facultatively Anaerobic
Enterobacter cloacae is facultatively anaerobic. Facultatively anaerobic bacteria can grow in the presence of oxygen, but they flourish where oxygen is absent. This characteristic allows Enterobacter cloacae to adapt to different environments.
Gram Negative
Enterobacter cloacae is Gram negative, which refers to how it responds to the Gram test. This test was developed by the Danish scientist J.M.C. Gram. Gram would stain a bacterial culture with crystal violet, and if the bacteria held the stain, then they were Gram positive. Gram negative bacteria, like Enterobacter cloacae, will not hold a crystal violet stain because their cell walls contain relatively low amounts of peptidoglycan.
Oxidase Negative
Enterobacter cloacae is oxidase negative, as revealed by the oxidase test. The oxidase test determines how bacteria react to oxidase reagent: if the bacteria turn violet within 10 to 30 seconds, then they are oxidase positive. But if they show no violet coloring, or if they color after 30 seconds, then they are oxidase negative, like Enterobacter cloacae.
Catalase Positive
Enterobacter cloacae is catalase positive, which refers to its reaction to the catalase test. In the catalase test, scientists will expose bacteria to hydrogen peroxide. If bubbles form quickly, then the bacteria are considered catalase positive. If no bubbles form, or if bubbles form slowly, then the bacteria is catalase negative.