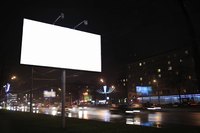 Promotion involves many business strategies to communicate with the marketplace, and advertising is a specific form of promotion. The term is often interchangeable with marketing and promotion, largely because of its impact in a company's promotional plan. Advertising often takes up the majority of a company's marketing budget.
Promotion Basics
Typical promotional strategies include public relations, personal selling, direct marketing, social media and sales promotions. Companies use PR in all forms to maintain interaction with the public, to promote goodwill and to generate broader attention to its brands. Direct marketing and personal selling have costs, but they are used to drive more immediate revenue. Sales promotions are also used to drive immediate sales.
Advertising Differences
Advertising is paid communication. The business pays broadcast, print or digital media for the time or place to present a message to a target market. By paying for advertising, the company gets to control the message more than it does with public relations efforts. Advertising has a more long-term, brand-building emphasis than selling and sales promotions.