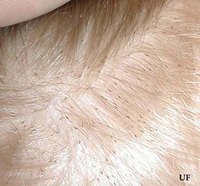 If your head is constantly itching, it's possible you have lice. They are actually microscopic insects that millions of people get every year. Most of those who become infected are children who are in school. Head lice are contagious, so be ware.
Features
Lice are the size of a sesame seed and are colored brown or white, although you probably can't see them. When lice make a home on your head, they lay eggs that eventually hatch and become more lice.
History
Lice are classified as parasites, which are known for living off other living things. AKA: You. Lice cuddle up against your warm, moist skin, which helps them survive. Lice also survive by eating small amounts of blood.
How Do You Get Lice
Children commonly pass lice by simply sitting or standing next to another child. With so many children in one place, schools are the perfect home for lice. Lice can also be spread by sharing hats or other materials.
Misconceptions
The biggest misconception of the spreading of lice is that they can be spread through animals. Your pets do not have lice and they can only be spread human to human. Another misconception is that lice only affects children. Although more common in young people, lice has no boundaries. A person's head isn't the only place a group of lice can occupy. Lice can affect other areas of the body such as the pubic areas.

Treatments
Almost every local pharmacy carries some form of an over-the-counter lice shampoo or cream. This shampoo and cream specializes in killing the lice. Follow the directions on the bottle and the infection should seize within seven to 10 days. Along with this, the infected person's bedding, clothing and personal items should be cleaned or disinfected.