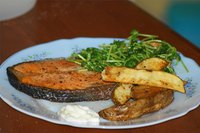 Carbohydrates are the body's preferred source of energy. It also provides the body with necessary vitamins, minerals and fiber. Fiber is what keeps your cholesterol down and your digestive system running smoothly. Fiber also fills you up faster and you stay full longer, preventing overeating. In the long run, your health depends on a moderate diet full of a variety of food types. This is necessary to maintain a healthy weight.
Calories
A low carb diet is not a low calorie diet. Your food choices still have the normal amount of calories. A low carb choice of a chicken caesar salad without croutons still has close to 1,000 calories. High calorie amounts contribute to weight gain in a low carb diet. Any extra calories will result in weight gain if you lead a sedentary lifestyle.
Portion Size
Read the labels carefully on your food. Pay attention to serving sizes. A label may list a food as having 95 calories and 20g of carbohydrates. This makes it a low carb food, unless you eat the whole can. If the can holds three servings, that means the food has 285 calories and 60 carbohydrates. Without dividing this food up into its servings, it turns into a high calorie, high carb food.
Restaurant Version
Many restaurants are offering low carb choices on their menus. This should be lean meat paired with a serving of vegetables. Unfortunately many restaurants offer a distorted version of low carb choices. It is normally an extra large portion of meat smothered in cheese and high fat sauce with a tiny serving of vegetables. This large size portion of protein means that more calories sneaking into your diet.
Low Carb
Several popular low carb diets call for excessive amounts of protein accompanied by small amounts of good carbohydrates. This lack of carbohydrates in a diet causes energy dips. The body starts to crave sugary foods to gain instant energy boosts. This can lead to binge eating and weight gain.
Good Diet
A good low carb diet will call for a moderate portion of lean cuts of meat, poultry, fish or plant based proteins like soybeans or lentils. It will also recommend a serving of high quality carbohydrates like certain vegetables and whole grain foods. This helps to maintain an energy source for the body. You end up consuming fewer calories, less unhealthy cholesterol and less saturated fat. You also end up loosing weight or maintaining your healthy weight.