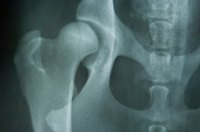 Hip pain may appear gradually in the case of degenerative conditions such as arthritis, or may appear suddenly if your dog is injured. Consult a veterinarian as soon as you see symptoms of hip pain.
Symptoms of Hip Pain
In most cases, symptoms of hip pain appear gradually. You may notice your dog is less active and run and play less. He may be hesitant to climb stairs or jump in and out of the car. He also may display subtle signs of pain such as heavy panting, restlessness or licking near his hips. As pain progresses, your dog may limp in the hind legs or hold his legs in an odd position. In extreme cases, your dog may vocalize or whimper in response to hip pain.
Hip Pain Causes
Hip pain may be caused by degenerative or developmental conditions or by injury. A common developmental cause of hip pain is hip dysplasia. This is a condition common in large breeds such as Saint Bernards, mastiffs and Rottweilers and a few smaller breeds including French bulldogs and pugs. The hip joint in dogs with this condition is loose because it was not formed properly.
Osteoarthritis in the hips is a common degenerative cause of hip pain. Arthritis has many causes including stress or trauma to the joint or abnormal wear from a congenital defect. It may be seen in dogs with hip dysplasia.
Hip pain caused by a fracture or hip dislocation usually is caused by being hit by a car or another major trauma. Other potential causes of hip joint pain include injured tendons or ligaments, Lyme disease and cancer.
Diagnostic Procedures
Your veterinarian can diagnose the cause of hip pain by reviewing your dog's symptoms and medical history and conducting a physical examination. Your vet may take X-rays of the hip joint to look for hip dysplasia, arthritis or fractures. Additional testing may be necessary if your vet suspects another cause such as cancer or Lyme disease.
Treatment Options
Treating hip pain depends on the cause. Adjusting your dog's diet can help him lose weight and decrease strain on the hips. Your vet may suggest increasing exercise so that your dog builds muscle to better support the joints. Anti-inflammatory medications and pain killers may help manage your dog's hip pain.
Supplementing your dog's diet with glucosamine and chondroitin may help arthritis symptoms. Fish oil supplements may help decrease inflammation in the joint. Consult your veterinarian before giving your dog supplements.
Some dogs may benefit from massage or physical therapy such as electric stimulation, underwater treadmills and ultrasound therapy also may benefit your dog. Ask your veterinarian for recommendations and referrals.
Surgical options may include hip joint replacement or using arthroscopic techniques to clean a joint.