Most Americans need to increase the amount of vitamin K in their diet. If you're taking a blood-thinning medication like warfarin, however, your vitamin K intake might interfere with the drug's function. That's because vitamin K is necessary for the production of the proteins responsible for blood coagulation. You shouldn't avoid consuming foods that contain vitamin K, but it may be easier to keep your intake consistent if you exchange ones with an extremely high concentration of the nutrient for ones with a lower per-serving amount. Ask your doctor or a dietitian for help regulating your vitamin K consumption.
Cooked Leafy Greens
Dark leafy greens are the richest natural sources of vitamin K. A 1/2-cup serving of cooked kale contains 531 micrograms, an amount that far exceeds the 120 daily micrograms needed by men and the 90 micrograms per day advised for women. Cooked spinach supplies 444 micrograms per 1/2 cup, and cooked collard greens contain 418 micrograms.
Because raw leafy greens have a greater volume than cooked ones, just switching to raw greens can reduce your vitamin K intake. In each raw 1/2 cup, kale has 236 micrograms, collard greens have 92 micrograms and spinach has 72. Stir their shredded leaves into pasta or grain salads, or use them as a bed for cooked meat, seafood or poultry.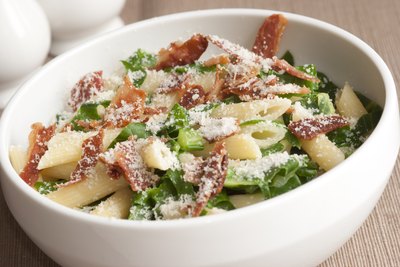 Certain Cruciferous Vegetables
Broccoli, brussels sprouts and cabbage all belong to the same family of cruciferous vegetables and are all high in vitamin K, especially when cooked. A cup of cooked broccoli has 220 micrograms of the vitamin, while brussels sprouts and cabbage supply, respectively, 219 and 178 micrograms per cooked cup.
Raw cruciferous veggies tend to be lower in vitamin K, and therefore easier to fit into a vitamin K-controlled diet. Per cup, raw broccoli has 89 micrograms of vitamin K, brussels sprouts have 155 and cabbage contains 53.
You can also substitute cauliflower, another cruciferous vegetable, instead. A 1-cup serving of cauliflower, whether cooked or raw, has only 16 to 17 micrograms of vitamin K.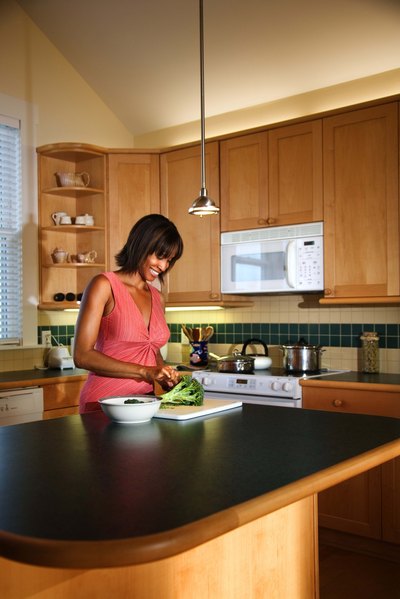 Leaf Lettuce
One or two leafy green salads a day can contribute a large amount of vitamin K to your diet. Endive contains 116 micrograms per cup, green leaf lettuce has 71 micrograms and romaine lettuce supplies 57 micrograms.
If you're used to eating salads with vitamin K-rich lettuce such as these, you don't need to stop, says the National Blood Clot Alliance, but suddenly adding them to your regular diet could cause fluctuations in your vitamin K level. Instead, experiment with chopped salads prepared with vegetables that are low in vitamin K. Cucumbers, snap peas, artichokes, corn, green beans, carrots, tomatoes, onions, peppers, potatoes and eggplant are all good options.
Some Vegetable Oils
Although vegetable oils like olive, canola and soybean oil are good sources of heart-healthy mono- and polyunsaturated fats, they're also high in vitamin K. Each tablespoon of soybean oil contains 25 micrograms of vitamin K, enough to fulfill 21 percent of a man's daily vitamin K intake and nearly 28 percent of a woman's. Canola oil contains 10 micrograms per tablespoon, and olive oil has 8 micrograms.
Swap these oil options for ones considered low in vitamin K, including corn, peanut, sesame, safflower and sunflower oil. Use them whenever you need oil for cooking or salad dressing preparation.