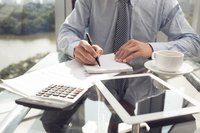 Each business ownership structure offers distinct advantages. LLCs work well for business owners who want limited liability with the tax advantages of a pass-through organization. Although setting up an LLC requires more paperwork than a sole proprietorship or partnership, it's less complex than a S corporation or C corporation.
Limited Liability
Unlike sole proprietorships and general partnerships, LLCs provide limited liability to members.This means that you can't be held personally liable for LLC debts or behavior of other owners and employees. For instance, if your single-member LLC declares bankruptcy, creditors can't access your personal bank account or home to cover the bill. However, if you personally guarantee a debt or act negligently on the job, you could lose that protection and be liable for your behavior.
Tax Perks
Some business owners incorporate in order to gain limited liability. However, corporate taxation is not always beneficial to the owner. Corporations are only allowed to distribute cash to owners through salaries or dividends. Dividends are taxed at the corporate level and the shareholder must also pay tax on his personal return when he receives the dividends. This is referred to as "double taxation." LLCs, on the other hand, cannot issue dividends. Instead, they pass through profits and losses to owners. That means that you only pay taxes on LLC profits at the individual level, rather than paying double tax.
Setup Time
You will need to file some paperwork with your state to create an LLC. However, the setup process is much simpler than it is for a C corporation or S corporation. Both C corporations and S corporations are required to adopt corporate bylaws, elect officers, hold periodic meetings for the board of directors and authorize stock classes along with filing articles of incorporation. In contrast, LLCs only are required to file articles of organization and pay the state a filing fee to set up shop.
Profit Sharing
Most business entities require owners to take a proportional share of profits and losses. For example, if an individual owns half the stock in a company, he must report half of the business net income and half of net losses. LLCs are able to allocate profit and loss differently among members. For example, an LLC membership agreement could allow a certain partner to take 50 percent of net income but zero percent of net losses. This LLC feature is immensely helpful if certain partners can benefit from tax losses and others cannot.