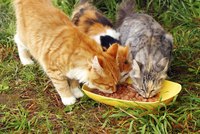 While the occasional nibble of boneless wild Alaskan canned salmon won't hurt your kitty, it shouldn't be used as a substitute for canned food that is specially formulated for cats. Canned salmon doesn't contain the correct balance of vitamins, minerals, fats and amino acids that your feline friend needs to stay healthy.
Salmon for Cats: Yay or Nay?
While wild canned Alaskan salmon contains omega-3 fatty acids, which are good for your feline friend, it may contain sodium or sharp fish bones, which are not. High amounts of sodium can cause electrolyte imbalances in your kitty, warns PetEdcuation.com. Feeding your kitty canned salmon or any other fish canned for human consumption in large amounts can lead to a thiamine and vitamin E deficiency. A lack of thiamine in your feline friend's diet can cause seizures or even death. A lack of vitamin E can lead to steatitis, an inflammatory condition. To prevent these health issues, avoid regularly feeding your kitty canned salmon or at least keep it to less than 10 percent of her daily diet, recommends the Cornell Feline Health Center.
What to Feed?
Save your boneless wild Alaskan canned salmon as an occasional treat for Fluffy and stick to feeding her commercially produced cat food, which adheres to the recommendations of the Association of American Feed Control Officials. The food should state that it is "complete and balanced" on the label, according to the U.S. Food and Drug Administration. These foods are formulated to meet your kitty's unique nutritional needs.