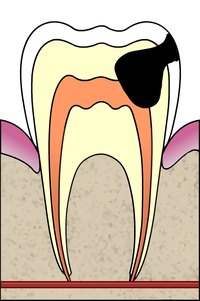 A dental cavity is an area of tooth decay that has grown into a small hole. Cavities have a variety of causes, from frequent snacking to heartburn. Left untreated, cavities can continue to grow, causing severe pain and other complications. Fortunately, by visiting the dentist regularly and maintaining good dental hygiene, you can prevent many cavities.
Pain
The symptoms of a dental cavity vary depending on where the cavity is and how far it has progressed. A toothache is often a reliable indicator of a cavity, according to the Mayo Clinic, and it warrants visiting a dentist as soon as possible to avoid complications from more advanced decay. In addition to general aching, a cavity often causes pain when you bite down with the affected tooth.
Sensitivity
Increased tooth sensitivity is another sign of a dental cavity. You may notice this when eating or drinking something that is sweet, hot or cold, according to the Mayo Clinic. This sensitivity may feel like mild to sharp pain, and it indicates that the tooth's pulp is still healthy, according to the Merck Manual Home Edition. At this stage, your dentist can restore the tooth, and further pain is unlikely to develop.
Other Symptoms
If a dental cavity gets large enough, you may be able to see it; it will look like a hole or pit in your tooth. Advanced cavities may be indicated by pus around the tooth, which is caused by an inflammation or infection at the end of the tooth's root, according to the Merck Manual. This condition, called a periapical abscess, causes constant pain that worsens when you bite.
No Symptoms
A lack of symptoms doesn't necessarily indicate a lack of dental cavities. When a cavity is in its earliest stages, confined to the tooth enamel, treatment is relatively simple, sometimes requiring nothing more than fluoride treatments to restore the enamel, according to the Mayo Clinic. If a dental cavity is allowed to progress beyond the enamel, a filling, root canal or, in the most extreme cases, tooth extraction may be required.
Prevention
Good oral hygiene--including brushing after every meal, flossing daily and using a fluoridated mouth rinse if recommended by your dentist--can go a long way toward preventing dental cavities, according to the Mayo Clinic. Regular dentist visits, which include professional cleanings and oral exams, can also help prevent problems or identify them before they're extensive. Drinking tap water, which, unlike many bottled waters, contains fluoride, is also good for cavity prevention. People who are particularly prone to cavities may benefit from dental sealants, fluoride treatments and antibacterial treatments, as prescribed by a dentist.