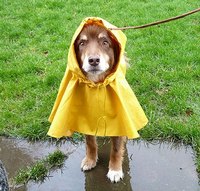 In winter months with drizzly weather, walking your dog can become a hassle. The smell of a wet dog is not pleasant, but Fido needs exercise. The solution is easy and one you would likely choose for yourself. A raincoat, hat, or umbrella will work for you and your dog, allowing him to get some movement without getting cold, wet (and not to mention, stinky) fur.
Rain Hat
A doggy rain hat usually accompanies a raincoat, but not always. Some dogs with long hair or wrinkly faces might have trouble seeing in misty or drizzly weather. The water can get into their eyes, causing irritation, and makes the walk unpleasant. You can still give them the exercise they need without eye problems with a rain hat.
A doggy rain hat should have two ear holes for dogs with pointy ears, but some rain hats do not. These hats would work for floppy-eared dogs like hounds. The hat will usually stay on with an elastic strap.

Raincoat
A doggy raincoat is most essential for taking your dog on a walk in misty or rainy weather. If you've ever gone outside in wet clothes, you know how your pet feels when fur gets wet. It's not comfortable, and one way to avoid it without avoiding walks is to wear a plastic raincoat.
Doggy raincoats come in a variety of adorable colors and patterns, and many sizes are available. Many coats do not protect doggy legs, but some do. Some raincoats also include a hood, which might work better than a rain-hat for dogs who try to remove the hat. Choose a coat that works best for your canine companion.

Doggy Umbrella
A doggy umbrella will further protect your pet against rain and sprinkles. Umbrellas made for dogs attach easily to a leash (usually in a package) and will stay in place as long as the dog doesn't go wild. A dog who is trained to walk calmly, without jumping, will benefit most from this unique invention.
An umbrella also works as a second solution for dogs who won't move with clothes on, much less a raincoat.

Rain Boots
Doggy rain boots complete the outfit for a dog walk in the rain. After all, the head and back are covered; the feet should be covered as well. If it's sprinkling, watching for puddles is the last thing you want to be concerned about. With rain boots for your pooch, having a fun walk in not-so-fun weather is still possible.

Where to Purchase
Doggy rain gear is available at most big pet stores, such as PetSmart and Petco, as well as many online retailers. Amazon.com has a large variety of raincoats, rain hats, rain boots, and doggy umbrellas. Prices vary for each product. eBay is another great place to find doggy rain apparel. Because some of the products will be used, you'll find inexpensive options, with the opportunity to leave feedback for a seller, whether the product is good or bad. The downfall to eBay is that a return might not be possible.
Be sure to do research on which rain gear will work best with your pet. After all, you know him best. Read buyer reviews when available to make sure products work and are safe for your dog's personality and foreseeable actions (like running with an umbrella attached to the leash).