Fish, like red meat and poultry, is high in protein. The exact protein content of a piece of fish depends on the type of fish and how it was prepared, but ounce-for-ounce many varieties have comparable protein contents to chicken, pork and beef, and more protein than beans or tofu.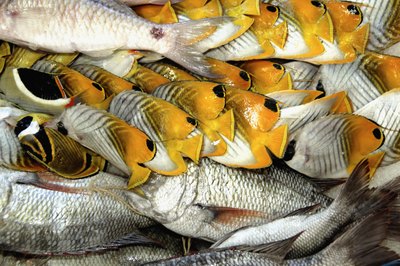 Types
Different types of fish have different protein contents. For 3 oz. of cooked fish, the recommended serving size for an adult, average protein contents are as follows:
Cod: 19.51 g Sole: 20.54 g Haddock: 20.6 g Halibut: 22.69 g Sockeye Salmon: 23.21 g Yellowfin Tuna: 25.47 g Canned Tuna (light, canned in water): 21.68 g Swordfish: 21.58 g Rainbow Trout: 20.63 g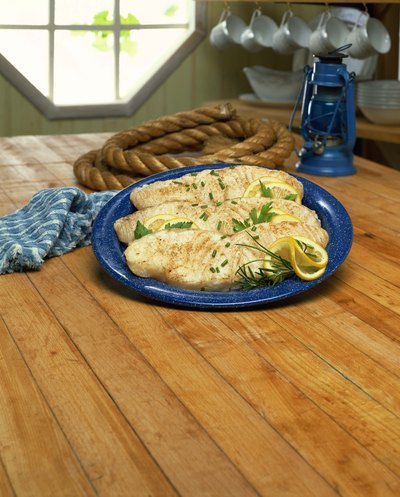 Comparisons
To give you an idea of how fish compares to other well-known sources of protein, below are the average protein contents of meats, beans and tofu. The serving size is also 3 oz., so the numbers can be compared equally with the list above.
Chicken (fried, dark meat only): 24.35 g Chicken (fried, light meat only): 27.27 g Beef (rump steak): 18.48 g Beef (top sirloin, lean only): 25.81 g Pork loin or tenderloin: 21.75 g Black Beans (cooked): 6 g Baked Beans (organic, in tomato sauce): 4.2 g Tofu: 7 g
As you can see, meat and fish have very similar protein contents, and fish has more protein than traditional vegetarian sources. As an added bonus, fish is low in calories, very low in fat, and high in Omega-3 fatty acids, making it a healthy way to add protein to your diet.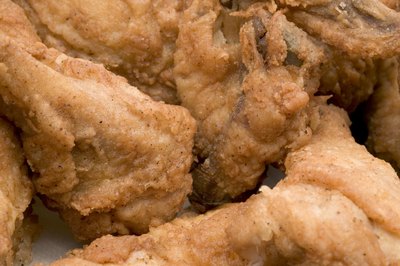 Portions
When you cook fish, you want to keep portion sizes in mind so you know how much protein you're really eating. Because fish loses water when cooked, to end up with 3 oz. of cooked fish you should start with a raw 4-oz. steak, or 5 to 6 oz. if you're working with whole fish.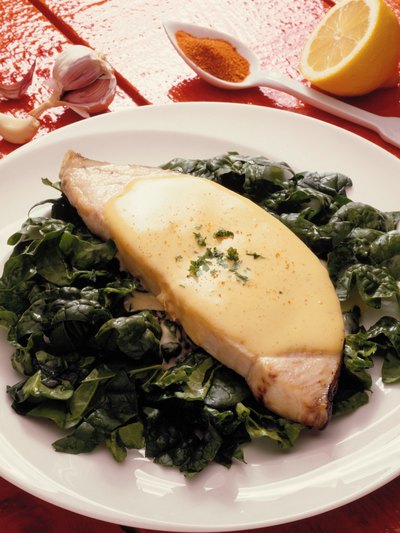 Daily Requirements
The recommended daily protein intake for an adult is .8 g for every kg (2.2 lbs.) of body weight, per day. This means that if you weigh 160 pounds, you need about 58 g of protein each day. Depending on your weight and the type of fish you choose, one portion of fish could satisfy almost half your daily requirement for protein.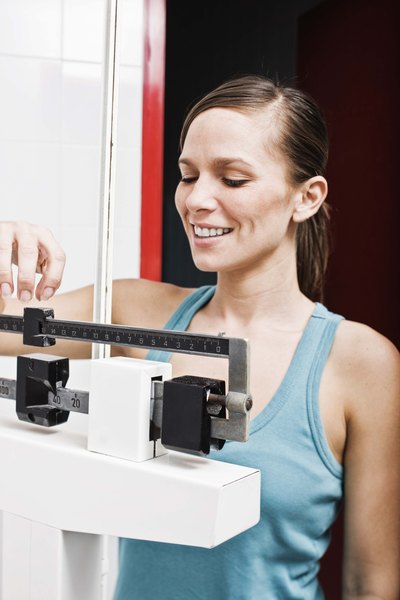 Warning
You should also be aware of mercury levels in fish that you consume regularly; the FDA maintains a list of mercury content in different types of fish, and issues special mercury advisories for women who are pregnant or nursing and children under the age of 6. The American Heart Association recommends eating fish at least twice per week despite potential risks, but encourages adults to eat a variety of fish to minimize your risk of mercury consumption. If you are pregnant or nursing, or under the age of 6, you should avoid fish with the highest levels of mercury, like shark, swordfish, king mackerel and tilefish. Salmon, pollock, catfish and canned light tuna are generally lower in mercury and can be eaten more often.