Children need adequate amounts of calories from their diets to function properly and have enough energy to grow, play and stay focused at school. But with childhood obesity rates rising, it's clear that some children are getting too many calories. Calorie needs are determined by a child's age, gender and activity level. Determine how many calories your child needs daily at each age so you can be sure he's getting enough but not too much. Making sure those calories come from healthy foods is also critical.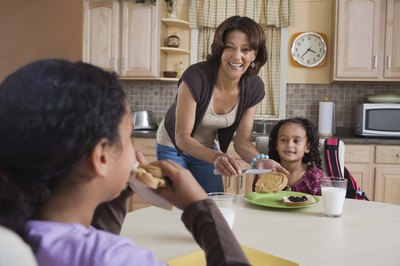 Newborn to Age 1
In the first year of your baby's life, her calorie needs are higher to support growth. According to the Merck Manuals website, your newborn needs about 50 to 55 per pound of body weight for the first 6 months. After that, her calorie needs decrease. At 1 year of age, she only needs about 45 calories per pound of body weight.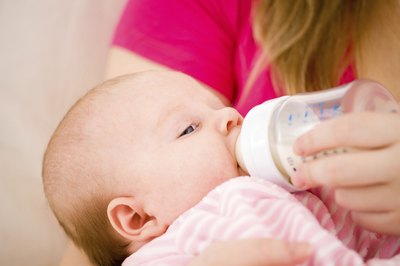 Toddler Years
In the toddler years, it's typical for your child to become more finicky and eat less or more erratically. According to the Dietary Guidelines for Americans, calorie needs for children ages 2 to 3 range from 1,000 to 1,400 calories a day, with less active children needing fewer calories and more active children needing more calories. The Parents magazine website encourages trusting toddler instincts; if your child tells you he's full, don't push him to eat more.
Ages 4 to 8
During this period of a child's life, boys begin to need more calories due to their larger size and increased muscle mass. Your child may become more active in sports, or he may be finding his interests lie in more sedentary activities, although adequate physical exercise is important no matter what. Somewhat active girls and boys of this age need 1,400 to 1,600 calories per day, while very active girls need 1,400 to 1,800 calories and very active boys need 1,600 to 2,000 calories per day.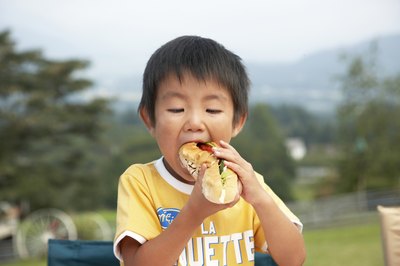 Ages 9 to 12
As your child gets older, her growth rate begins to slow, but she may be becoming more active. The Dietary Guidelines for Americans report that somewhat active girls in this age range need 1,600 to 2,000 calories per day, and very active girls need 1,800 to 2,200 calories per day. Somewhat active boys at this age need 1,800 to 2,200 calories, and very active boys need 2,000 to 2,600 calories per day.
Learning Healthy Habits
Help your child get the nutrients he needs by offering him nutrient-dense foods and encouraging healthy eating habits. Offer plenty of fresh fruits and vegetables, lean proteins such as chicken and fish, whole grains and low-fat dairy after age 2. Keep junk food out of the house and limit sweets to occasional treats. Teach your child about proper portion sizes, and encourage her to manage her own hunger and fullness cues, which means eating only when she's hungry and stopping eating when she's full. Learning how to manage food intake at an early age will help prevent obesity later in life.