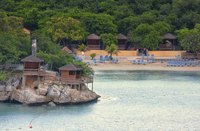 No doubt about it: Labadee really is, as Royal Caribbean says, "simply a slice of paradise" for tropical vacationers. However, after a luxury cruise liner docked at this Haitian port soon after a January 12, 2010, earthquake had leveled the capital, Labadee became a hot destination for reasons unrelated to its climate. The issues raised in international media over the exploitation of impoverished countries by richer ones highlight the often uneasy relationship between ethics and economics in the travel industry.
Labadee Yesterday and Today
In 1986, Royal Caribbean inked a deal with Haiti's then-dictator, Baby Doc Duvalier, for exclusive control over 260 acres of waterfront property 60 miles north of Port-au-Prince. Royal Caribbean's trademarked name for its new resort, Labadee, was derived from the name of a French slave owner, the Marquis de La'Badie, whose white descendants fought against the army of former slaves seeking to end both slavery and French domination of the colony during the revolution of 1791 to 1803. The cruise line erected a high fence around the property, hiring armed guards to make sure unauthorized Haitians didn't enter, and spent millions upgrading the port and developing the land. Cruise passengers aren't permitted to leave the property and don't stay overnight, but attractions include Columbus Cove, billed as "one of the largest aqua parks in the Caribbean," and Labadee Town Square, "where guests can enjoy the rich Haitian culture and take in shopping, shows, cultural activities and other memorable experiences."
Haiti Before and After the Earthquake
Haiti is one of the world's poorest countries. Even before the January 2010 earthquake, the United Nations Human Development Index listed Haiti as 145th among its 169 member nations, a place where 70 percent of the population lived on less than $2 a day. As for the scale of the devastation caused by the 7.0 magnitude quake: According to official statistics released by the U.K.'s Disasters Emergency Committee, 220,000 people were killed outright and more than 300,000 injured. In October of the same year, an outbreak of cholera infected 216,000 people, leaving almost 6,000 dead.
The Firestorm of Criticism
When a cruise liner packed with affluent, well-fed Americans pulled into Labadee three days after the quake, the reaction could hardly have been worse. In news stories published and broadcast around the world, Royal Caribbean was lambasted for exploiting Haiti's poverty, essentially bringing people to party while the inhabitants of Port-au-Prince suffered, starved and struggled to bury their dead. In fact, some passengers aboard the ship, who had booked vacations long before the quake, agreed with the criticism and refused to come ashore. But the dialogue that resulted from this controversy continues to have ethical resonance that extends beyond Labadee and Haiti for the tourism industry. Many tropical destinations are bargains precisely because they're poor, making land and labor much cheaper than they'd be in wealthier countries.
In Defense of Tourism
Addressing the international outrage triggered by the cruise line's apparent insensitivity, Adam Goldstein, president and CEO of Royal Caribbean International, said that people who refused to visit Labadee, or go ashore once there, deprived Haitians of desperately needed income. "Generating economic activity for the straw market vendors, the hair-braiders and our 230 employees helps with relief while being somewhere else does not help," he wrote. The United Nations World Tourism Organization supported that argument, calling tourism "a useful instrument for the necessary reconstruction process in Haiti." In addition to tourists, Royal Caribbean's ships have carried rice, dried beans, powdered milk, water and canned goods to Haiti. The company also announced it would donate $1 million in humanitarian aid and contribute all net revenues from Labadee to the relief effort.