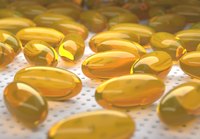 Omega-3 fats are not only essential to your health at all life stages, they may help combat some of the symptoms of menopause that can negatively affect your quality of life, such as depression, hot flashes and osteoporosis. These fats have other benefits as well, such as reducing inflammation, promoting brain health and reducing the risk of heart disease and arthritis. Talk to your health care provider before making changes to your diet or taking omega-3 supplements.
Omega-3 Fatty Acids 101
Omega-3 fats are perhaps best known for their link to heart health. Getting these fats through diet or supplementation is crucial since your body cannot manufacture them on its own. The oils of fatty fish like salmon and mackerel contain the omega-3 fats EPA and DHA, and certain plant oils like walnut, soybean and flaxseed contain an omega-3 fat called alpha-linolenic acid. If you're not able to get enough omega-3 through diet alone, you can take omega-3 supplements in the form of fish oil or plant-based omega-3 oils.
Benefits for Hot Flashes
Hot flashes are a common menopausal complaint, and the sudden feelings of warmth cause discomfort that increases stress and can even interfere with a good night's sleep. Fish oil might help, according to a report published in the March 2009 issue of Menopause.
Researchers looked at the effect of an enriched form of EPA -- one of the omega-3s found in fish oil -- on women who reported moderate to severe hot flashes. The participants supplemented for eight weeks and completed questionnaires regarding the frequency and intensity of their hot flashes. The authors found that supplementing with EPA significantly reduces the frequency of hot flashes.
Might Increase Bone Density
Estrogen plays a role in bone health, which is why your risk of developing osteoporosis increases when levels drop sharply during menopause. Balancing your diet with the omega-3 fat ALA may prove beneficial, according to the authors of a study the Nutrition Journal published in January 2007. The study shows that adding ALA from flaxseed oil and walnuts to the diet reduces markers for bone loss. In addition, existing clinical data show supplementing EPA increases bone density in menopausal women.
May Combat Menopausal Depression
For some women, another troubling symptom that comes along with menopause is mood swings. It's not uncommon for women going through menopause to experience serious bouts of depression. Omega-3 fats may help combat this symptom, but large, double-blind studies are needed to know for sure.
Researchers reported positive preliminary results from a small, single-blind trial published in the March 2011 issue of the journal Menopause. Supplementing the omega-3 fats EPA and DHA -- both found in fish oil -- significantly reduced menopause-related symptoms of major depression, according to the authors.