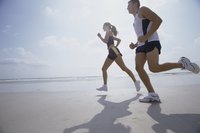 The manufacturers of AdvoCare Spark claim using their supplement regularly can boost your energy level, increase your exercise stamina and help you feel more mentally alert. This supposedly occurs because of AdvoCare Spark's large concentration of vitamins, minerals and nutrients. The supplement is a powder designed to be taken up to three times daily mixed into water or another liquid. As a dietary supplement, AdvoCare Spark has not been tested by the U.S. Food and Drug Administration for safety or efficacy. Do not use it until you've spoken to your doctor.
Ingredients for Increased Energy
AdvoCare Spark contains two sets of ingredients that supposedly increase your energy level. The first set is included to provide a quick burst of energy, while the second contains nutrients needed for long-term energy metabolism. Caffeine and taurine make up the first set. Taurine, an amino acid, may help regulate heart rate and is essential for the release of neurotransmitters. The B family of vitamins -- riboflavin, niacin, pantothenic acid, thiamine and vitamins B-6 and B-12 -- along with L-carnitine make up the second set. These play essential roles in breaking down carbohydrates, fat and protein for energy.
Ingredients for Mental Alertness
L-tyrosine, choline and gamma-aminobutyric acid, or GABA, are the components of AdvoCare Spark that allegedly support and enhance the function of your nervous system. L-tyrosine is necessary for the synthesis of neurotransmitters like epinephrine and norepinephrine, while choline is a part of the structure of acetylcholine, a neurotransmitter vital for memory. GABA inhibits the activity of the nervous system, lowering stress and anxiety levels and promoting relaxation, though the NYU Langone Medical Center points out that little supplemental GABA succeeds in reaching the nervous system.
Additional Vitamins and Minerals
Other vitamins in AdvoCare Spark include vitamin A in the form of beta carotene, vitamin C and vitamin E. All three of these nutrients are antioxidants, compounds that inhibit free radicals from damaging cellular tissue and DNA. Zinc, chromium and copper are minerals in AdvoCare Spark. Other nutrients that make up Advocare Spark include inositol, which aids the transfer of nutrients into cells; glycine, an amino acid needed to build components of red blood cells; the antioxidant glutathione; and antioxidants known as citrus flavonoids.
Inactive Ingredients and Flavorings
Maltodextrin and the artificial sweetener sucralose sweeten the taste of Advocare; citric acid and silicon dioxide keep the mixture evenly blended without clumps. Depending on which type of AdvoCare Spark you choose, it includes natural or artificial flavorings. Some include beet root or grape skin extract for coloring. The pink lemonade variety of AdvoCare Spark includes additional additives and sweeteners, including gum arabic, dextrose and titanium dioxide.