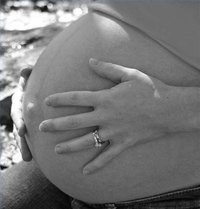 Groin pain is a common ailment suffered throughout pregnancy that can lead to severe problems in some women. The groin muscles, as well as the ligaments, stretch in order to accommodate the growing fetus inside the uterus, which can lead to pain in the abdomen and an increased chance of straining the groin muscles. This can usually be felt first around the twelfth week of pregnancy, but a groin pull can occur periodically anytime thereafter.
The Facts
A groin pull, also known as a groin strain, occurs when too much stress is placed on the muscles in the groin and thigh. The groin muscles consist of six muscles that cover the area from the inner pelvis to the inner part of the thigh bone. They pull the leg together and help with movements of the hip joint. Sudden changes in direction or quick shifts of the body can cause the muscles to become overstretched and, in some cases, tear.
Identification
Groin pulls are common in women who are pregnant because of the natural loosening of the ligaments that is experienced in preparation for childbirth. Symptoms of a groin pull may include pain and tenderness in the groin area and in the inside of the thigh, pain when closing the legs or lifting the knee, or a popping or snapping feeling during the injury followed immediately by extreme pain.
Types
Groin pulls are typically divided into three categories depending on the severity of symptoms. First degree groin pulls include pain, but little loss of strength or movement, second degree pulls include pain with some tissue damage, while those that fall in the third degree category include pain accompanied by a loss of function and a complete tear of the muscle. To determine the severity of a groin pull, a physician will complete a thorough physical exam and may recommend x-rays to rule out any additional problems.
Prevention/Solution
Pregnant women should change positions slowly to allow the ligaments to stretch gradually and should bend at the hips if they are going to sneeze, cough, or laugh in order to prevent a groin pull. Groin pulls usually heal on their own within four to six weeks with no radical treatment required. Rest is key in the healing process, but in addition, ice may be placed on the thigh to reduce the swelling, an anti-inflammatory will help ease the pain and reduce swelling, and compressing the thigh with an elastic bandage can speed recovery.
Warning
Pregnant women who experience groin pain should contact their health care provider immediately if the pain does not subside within a few minutes. Notify the doctor if there is bleeding, cramping, nausea, vomiting, fever, chills, or a change in vaginal discharge, in addition to the groin pain and any loss of movement. All possible risks and side effects of potential diagnostic tests and recommended treatments should be thoroughly discussed with a health care provider.