Your cat's kidneys serve several vital functions necessary for his survival, so infections have serious implications for his overall health. Felines are particularly prone to infections and deterioration of these crucial organs, especially in old age. Bacterial infection of the kidneys, called pyelonephritis, is difficult for veterinarians to diagnose and treat. While some cats recover with antibiotic treatment, infections may develop into acute or chronic kidney disease.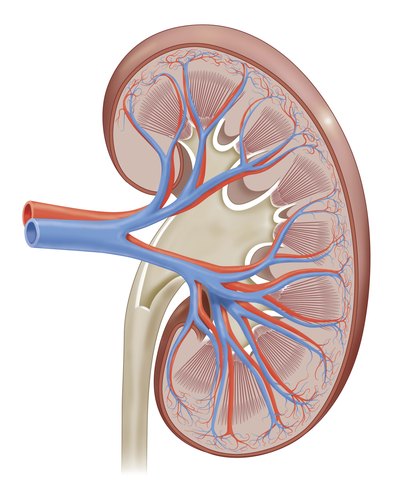 Visible Symptoms
Pyelonephritis causes inflammation, swelling and general dysfunction of the kidneys as the bacteria spreads. This prevents the kidneys from filtering blood toxins and producing essential biological compounds. Early signs of kidney issues include increased water consumption, frequent urination and loss of appetite. Episodes of vomiting and weight loss may also develop as kidney functions diminish. Symptoms of pyelonephritis are often subtle, so many owners don't realize there is a problem until the disease has reached a critical stage.
Risk Factors
Kidney infections usually stem from a bacterial urinary tract infection that is left untreated, although they can also develop from infections of the blood. All domestic cats are at risk for developing kidney problems, with high incidence reported in mature felines. Long-haired breeds such as Persians and Angoras have a genetic predisposition to developing kidney problems, according to Cornell University College of Veterinary Medicine.
Professional Diagnosis
Diagnosing kidney infections requires professional expertise and equipment, so don't hesitate to schedule a vet visit if your kitty shows any signs of pyelonephritis. Your veterinarian may assume your cat has the disease if he notices a serious bladder infection and elevated white cell count following a blood test. Laboratory evaluation of blood samples can confirm the presence of kidney infections, although these tests may return normal results even if pyelonephritis is present. Unchecked kidney infections can turn into life-threatening or permanent kidney issues, so vets may pursue treatment even if blood tests are ambiguous.
Treatment and Prognosis
If your vet suspects your pet has pyelonephritis, she will prescribe a course of antibiotics to combat the infection. These medicines take time to penetrate the kidneys, so antibiotics are usually administered over the course of two to six months. Chronic infections are often treated with a mixture of anti-bacterial compounds to prevent the bacteria from developing a resistance to the medicine. Some cats, especially young ones, can make a complete recovery with prompt treatment from a veterinarian. Unfortunately, older cats face the inexorable deterioration of kidney tissue and are more likely to suffer from chronic disorders. Discuss long-term care options with your veterinarian to determine the best course of action in the case of irreversible kidney failure.