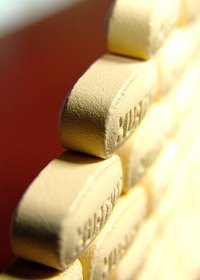 Pancreatin is an enzyme produced in the exocrine cells of the pancreas that helps with the digestion of starches, fats, and proteins. As a medical supplement for patients producing limited or no natural pancreatin, it is available in capsule, tablet or powder form. Pancreatin is extracted pig pancreas and is used primarily to treat pancreatitis and cystic fibrosis, but is also administered for pancreatic cancer, kidney disease, multiple sclerosis, uterine fibroids, autoimmune deficiencies, indigestion, weight loss, and food allergies. Most of the dangers associated with pancreatin come from overuse.
Minor Irritations
A standard dose of pancreatin is 500 to1000 mg taken orally before each meal or snack. Even at the proper level, it causes tremendous thirst. Do not take with hot food or beverages, as this stops the supplement from working properly. The pancreatin tablet should be swallowed with water immediately or it could irritate the gums and cheeks. Try the enteric-coated capsule to avoid this problem.
Allergic Reactions
Because pancreatin is drawn from pigs, anyone with a pork allergy should stay away from it. Allergic reactions range from mild itching and swelling, mostly of the face, mouth, and throat, to rashes, dizziness and respiratory distress.
Dietary Difficulties
Pancreatin overdoses can cause nausea, diarrhea and malnutrition, leading to other nutritional and health problems. Dosing any amount of pancreatin may prevent intestinal adsorbents, which rid the body of toxins and poison, from working properly.
Serious Side Effects
Pancreatin can lead to frequent or painful urination and joint pain. Call a doctor immediately if these symptoms occur. Pancreatin may also lead to increased levels of uric acid in the urine and blood, as well as constipation and intestinal obstruction.
Cystic Fibrosis
According to the Food and Drug Administration, patients taking pancreatin for cystic fibrosis run some of the most serious risks related to the supplement, including severe abdominal pain, intestinal obstruction, incontinence and rectal prolapse, where all or part of the rectal wall moves out of place.
Long-Term Use
Long-term use of pancreatin is not advised, since it can cause the pancreas to further reduce or end production of this digestive enzyme. Do not take pancreatin supplements for more than two months, and then continue to look for adverse reactions to the medicine as well as any renewed digestive difficulties that may have led to taking it in the first place