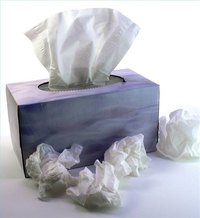 Having a sinus infection means that you have inflammation in your sinuses, the air-filled spaces located behind your forehead, nose, cheeks and eyes. Also known as sinusitis, sinus infections often occur after a cold and commonly include nasal congestion, pain in the sinuses, fever, sore throat and cough. Sinus infections are often divided into acute, subacute and chronic cases: Acute cases last less than four weeks, subacute last four to 12 weeks and chronic cases last 12 weeks or more. Most sinus infections do not require antibiotics.
When Antibiotics Are Used
Your doctor may prescribe antibiotics to treat your sinus infection if the infection is caused by bacteria. Doctors sometimes also prescribe long courses of antibiotics for chronic sinusitis. This latter method of treatment, however, has not been thoroughly studied, and more research is needed to determine its effectiveness.
When Antibiotics Are Not Used
Antibiotics will not be useful in treating your sinus infection if the infection is caused by a virus or allergy. Most acute sinus infections get better on their own, so it is usually best to delay antibiotics until your doctor determines that they are truly necessary. Taking antibiotics when they are not needed can be detrimental, because every time you take an antibiotic, it gives the bacteria in your body an opportunity to develop drug resistance, potentially creating bacteria that cannot be killed by common antibiotics.
Home Treatment
Most sinus infections will clear up with home treatment. To help reduce nasal congestion, drink plenty of fluids, especially water, throughout the day. Using a nasal saline spray, inhaling steam and applying a warm washcloth to your face can also help reduce congestion. Over-the-counter pain relievers may help alleviate any sinus pain you experience. As with most illnesses, getting enough rest and eating well are also important factors in helping your body fight off the infection.
Other Options
If your sinus infection does not clear up with home treatment, your doctor may choose a course of treatment other than antibiotics. If your sinus infection is a result of allergies, your doctor may recommend that you take antihistamines or use a nasal steroid spray. Oral steroids are also sometimes prescribed for chronic sinusitis. Surgery is also an option, especially if your sinus infection is the result of structural problems in the sinuses. Surgery aims to facilitate better sinus drainage and to remove any existing blockage of the nasal passages.
When to Seek Medical Attention
Make an appointment to see your doctor if your sinus infection persists for more than 10 days or if you experience several sinus infections in a year. You should also talk to your doctor if your sinus infection is accompanied by a high fever or a severe headache that is not relieved by over-the-counter pain medication.