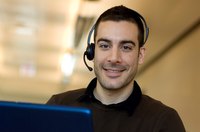 GC Services offers a variety of outsourcing solutions for other businesses. Its chief specialties include telephone call center management and accounts receivables management. The company's website identifies GC Services as America's largest privately held provider of such services. Headquartered in Houston, Texas, the company operates call centers in several other states, as well as in Canada and the Caribbean.
Customers and Clients
Founded in 1957, GC Services dedicates itself to customer care solutions in both the private and public sectors. It prides itself on its professional relationships with its clientele. GC's customers come from virtually every business sector, including the automotive industry, banking, financial services, retail marketing, telecommunications and utilities. It also provides services under contract for some governmental organizations that are responsible for child support, court operations and taxes.
Call Center Management
Beneath the overall umbrella of call center management, GC Services offers both inbound and outbound call operations. Its call center clients can contract with GC for a wide variety of specific operations, including customer service, sales order taking and entry, back office processing, application and credit approval processing, chat and email services and direct call handling.
Accounts Receivable Management
GC emphasizes its collection philosophy by recovering owed money while retaining the customer. Customers of the company's collection services include companies in almost every line of business. Its biggest debt collection clients are found in the financial services field -- money-center banks and credit card issuers -- along with telecommunications companies. Specific services in the collection arena focus on collections before they reach the write-off stage of delinquency.
Company Awards
In JD Power and Associate's 2013 Consumer Financing Satisfaction Study, GC Services was noted in the study's top three ranks. The company was also recognized for its commitment to providing world-class services for a utility company's customer base. It has also received a Supplier Excellence Award for two consecutive years from a wireless telecommunications customer. A government tax program ranked GC Services number one in its annual performance evaluation among the many other awards it has received.
Company Strengths
The company states that it maintains a progressive and resourceful culture, but that it is creative and flexible when addressing the specific needs of its clients. It claims that these strengths underpin its continued growth and profitability since its inception in the 50s. "Customer Magazine" has recognized GC Services for a decade because of its customer care services.