Your doctor recommends a low-fiber diet when you have certain digestive issues that require you to give your intestinal tract a rest. Fiber stimulates the digestive tract and bulks up stool, which is normally beneficial. If you have a situation such as a bowel inflammation flare up, however, you need to eat low-fiber foods until symptoms subside. In addition, limit fatty foods to reduce bowel residue. Always follow your doctor's dietary instructions.
Choose Refined Breads and Grains
While whole-grain foods are fiber-rich, refined breads and grains are low in fiber. This means you can have low-fiber breakfast foods like pancakes, waffles, French toast, muffins, rolls, biscuits and enriched white bread. Hot cereals like creamed wheat and farina are allowed on a low-fiber diet as well. You can also have refined cold cereals such as puffed rice, wheat flakes and others. Avoid breads and grains with nuts, seeds or dry fruit, as this increases the residue in your digestive tract.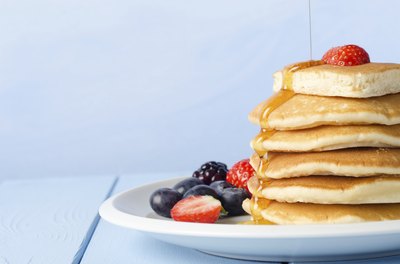 Opt for Meat and Protein
Eggs, fish, poultry, ham, lamb and other red meat, as well as tofu, are low in fiber and acceptable foods on a low-fiber diet. This includes breakfast meats like sausages and bacon. Cook any meats until tender to break down the muscle fibers. Tough meats are difficult to digest and may cause discomfort. Avoid dry beans, peas and lentils as well as peanut butter, and avoid nuts and seeds of any kind. Smooth peanut butter is allowed.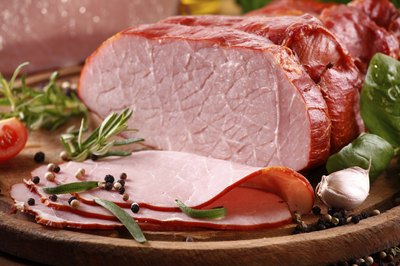 Reach for These Other Foods
Well-cooked, low-gas-forming vegetables like beets, green beans, carrots, acorn squash, cucumber, green peppers, tomatoes, onions and zucchini are allowed. You can also choose from low-fat dairy such as yogurt, cheese, milk and cottage cheese, as well as jelly, syrup, honey, butter and oils. Raw and dried fruit may cause digestive symptoms, but you can have cooked or canned fruits without seeds or skins. Avoid berries, due to their seeds, and raisins, figs and prunes. Fruit juice is low-fiber, but it must be free of pulp.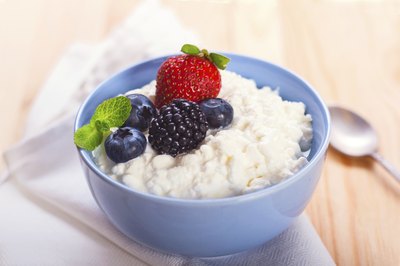 Try Some Low-Fiber Breakfast Ideas
An example of a low-fiber breakfast is one scrambled egg, 1 cup of rice cereal, 1/2 cup of yogurt and 1/2 cup of orange juice. Another breakfast idea is one waffle topped with cooked or canned fruit and a drizzle of honey, two slices of turkey bacon, one egg and 1/2 cup of apple juice. Your doctor may provide guidelines on how many servings of low-fiber foods you can have per day.