The early rock stars wore clothing that was accessible by the common man—a leather jacket, skinny dress and jeans. Nowadays, rocker fashion is both exclusive and common, with mimicry the rule of the day in many American mall stores. Starting with Dior's "New Look" in the late 1940s, fashion combined with music to create a subculture that, at times, both frightened and enervated the American public.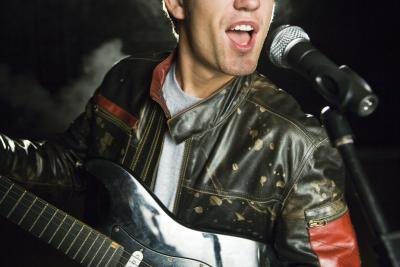 (Jupiterimages/Goodshoot/Getty Images)
Malcolm McLaren of the New York Times notes that the rise of rock n' roll coincides with the beginning of Christian Dior's late 1940's "New Look" period. According to McLaren, "The moment rock 'n' roll started to cut its teeth on popular culture was the moment when every James Dean look-alike danced with an adolescent girl ... in crinoline skirts and padded bras: the Hollywood High version of the New Look." Now, modern rock includes an amalgam of styles. Rocker fashion, once the domain of the rich and beautiful, is now widely available due to mass production and the spread of luxury goods into the general consumer market.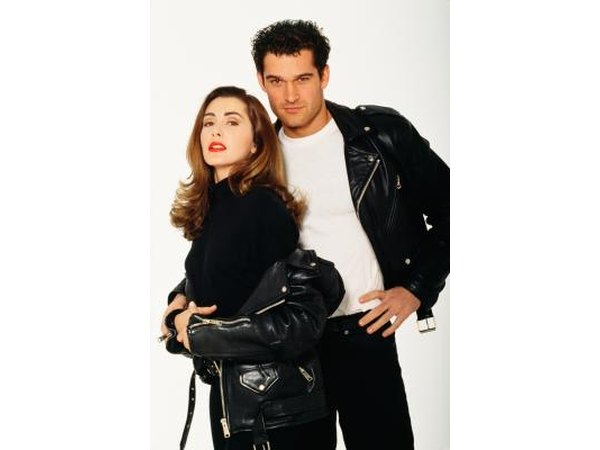 Jupiterimages/Photos.com/Getty Images
1950's fashion was marked by stratification for both young men and women. Inspired by both Elvis Presley and clean-cut singers like Bobby Darin, teens fell into two categories: preppy and greaser. The preppy uniform consisted of pressed slacks, a button-down shirt, a v-neck sweater, shiny loafers and short hair. Preppy girls, like Sandy from the movie "Grease," wore bobby socks, dirndl dresses, pleated skirts and twin sets. On the other end of the spectrum was the much harsher look of the greaser. The order of the day for a boy rocker was a leather jacket, tight jeans and a white t-shirt (think the Fonz from "Happy Days"); the girls wore poodle skirts with a dog or music note patch, pencil skirt, stockings and form-fitting shirt.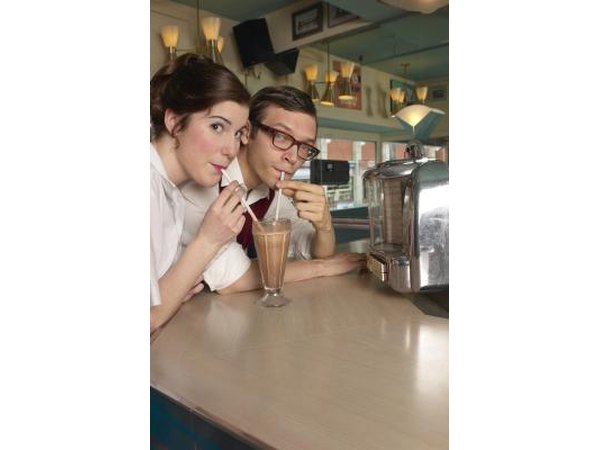 Hemera Technologies/AbleStock.com/Getty Images
Rocker clothing took a unique turn in the following eras, with the advent of hippie fashion next to a more glamorous type of look. Now, rock stars broke away from the regimented, highly regulated styles of the past for tight pants, leather, shine and flow. Elton John and Ziggy Stardust bent the rules of gender with sequins and high glam, while the female stars of the day like Janis Joplin stuck with loose garments, bell bottoms and natural comfort.
In the 1980s, the theatrical look stayed strong. Eighties rocker style was unfinished and had an almost DIY quality. Anyone could dress like Madonna or Steven Tyler; all that was needed was a good thrift store and some scissors. While some bands like KISS relied on elaborate costuming to enhance their rock n' roll image, most stayed with an Everyman type of aesthetic.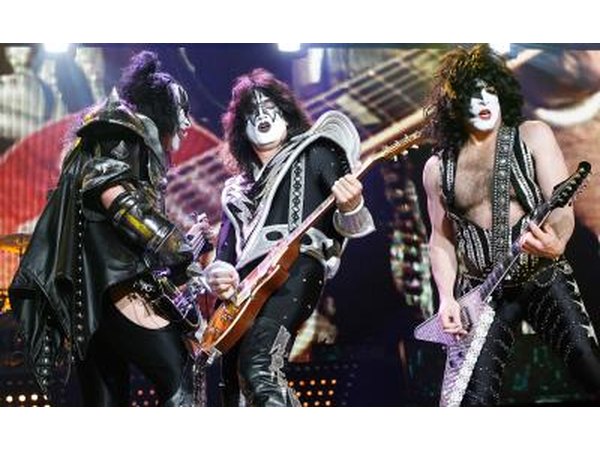 Jo Hale/Getty Images Entertainment/Getty Images
Today, it's easy to dress like a rocker—with limitations. Unless one is very wealthy, there's practically no way to get the same $3,000 Yves St. Laurent suit as a leading music star. Instead, rocker fashion fans rely on popular, mass-appeal stores for their goods. These days, that expensive suit can be replicated within days by an Asian factory at less than a third of a price. Because of that, young people almost start making the trends at the same time the stars wear them.
Many rock stars also embrace vintage clothing in order to have a one-of-a-kind outfit. Because many celebrities utilize personal shoppers and stylists, there are a massive amount of garments available that weren't in past eras. Now, a rock star can wear a custom pair of leather pants from Hollywood with a shirt from the newest Topshop collection in London with little time wasted.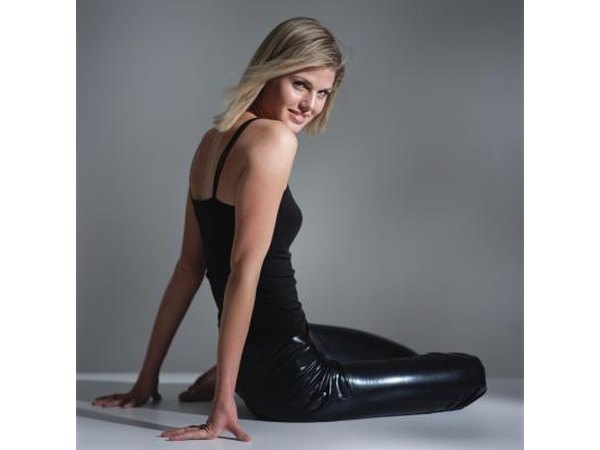 Digital Vision/Digital Vision/Getty Images
Rock n' roll fashion is aggressive and rough these days, although the dingy togs are often expensive. For both sexes, the rocker look is one that screams sex. There's no room for modesty in rock, so men and women wear super-snug jeans and tight shirts. Often, the hair is dramatic in appearance; many rockers sport a bedhead, bleach their hair, use high-contrast color or cut hair into modern styles. The alternative for many men is to grow hair long.
Many have preserved gender-bending, with some popular male stars sporting dresses and makeup, and girls wearing suits with ties. There are some who invest in avant-garde fashion pieces, as well. Select rockers have even gone full circle to embrace 1950s fashion. Rocker style today is in evidence in the most exclusive stores, as well as on the rack of the nearest thrift mart. There are few rules of rock n' roll fashion, but the most important is that the look embrace the wearer's creativity.
Digital Vision./Digital Vision/Getty Images
Promoted By Zergnet