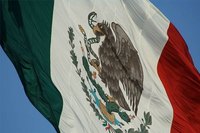 Mexican food has become so prevalent in today's society that it is akin to "down-home" cooking for many Americans. Mexican food doesn't have to be given up just because a person is diagnosed with diabetes. However, diabetics should always make sure that the food they eat fits well into their diets.
Diabetic Diet
Doctors at the Mayo Clinic recommend that carbohydrates should be no more than 45 percent to 65 percent of daily calories. Protein intake should be 15 percent to 20 percent of daily calories, and fats 20 percent to 35 percent of the daily calorie intake. But these are just general guidelines. Daily calorie, protein and carbohydrate intake varies from patient to patient. The medicines a patient is taking can influence the total carbohydrate count per meal. So it's crucial to always speak to a doctor about specific health needs before adding any food into a diabetic diet.
Salads
Salads are a great way to keep carbohydrate counts and calories under control--and if meat or cheese is added, they can be a good source of protein. Mexican salads including fajita salads or guacamole salads are a good option for staying healthy. Condiments such as sour cream and salsa can also be used for salad dressing. Both have minimal carbohydrate counts and calories.
Asada Steaks
When looking for healthy menu options, search for the word asada. Asada means "grilled." Grilled steaks are a great diabetic food choice. Shrimp can also be added to an asada plate for even more protein.
Pescado
Pescado, or fish, are also a great healthy option at a Mexican food restaurant. Grilled white fish, tilapia, or cod are often found on the menu. Any of these fish make excellent choices for a diabetic. Beware of fish that have been battered, fried or tortilla encrusted. These are not good diabetic choices. These options add extra carbohydrates, as well as calories and fat.
Fajitas
Fajitas, like asada steaks, are grilled. They're typically served with onions, bell peppers, a side of lettuce, guacamole, sour cream and cheese. All of these items are diabetic friendly. For most diabetics, eating one tortilla will not exceed their carbohydrate count per meal. Fajitas can still be enjoyed without tortillas. Just mix all of the sides together with the meat and eat it with a fork.
Other Foods to Avoid
Foods the diabetic should avoid completely when eating Mexican food include pre-meal tortilla chips, Mexican rice, fried foods, flan and fried ice cream.