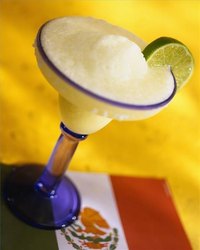 Packing for your Cancun vacation requires a bit of forethought, but the results will be worth it. With so much to do and so many places to see, knowing what lies ahead will help you pack with more ease and efficiency.
All About Cancun
Cancun is much more than the seemingly endless azure blue seas on the travel brochure. Located off the coast of the Yucatan Peninsula, Cancun boasts miles of white, sandy beaches on the narrow, seven-shaped island where most of the resorts are.The city center is on the mainland, which connects to the island via two bridges, one at each end of the island. Cancun is only minutes away from the Riviera Maya, home to many archaeological ruins, Xcaret with its ecological parks, and the quaint town of Playa del Carmen.
The Basics
The basics for any vacation include comfortable clothes, toiletries, medications, camera, film (if necessary) and money. For a beach vacation, you'll need to add a swimsuit or two, a cover-up, sunscreen, sunglasses and a hat. The key is to pack light. Once you've packed the clothes you think you'll need, take out half and leave them at home.
Comfortable clothes in Cancun usually means shorts and T-shirts. The average temperature in January is around 78 degrees, with highs reaching into the low 90s in July and August. Evening temperatures can cool off a bit, ranging from the low 60s in January to the upper 70s in the summer. The humidity can be quite high, especially between June and November--hurricane season--so lightweight fabrics are a must.
If you like to kick up your heels in the evenings, bring some dressier clothes for evening dining or dancing but leave the pantyhose at home.
Because of the humidity, fabric doesn't dry quickly. Bring two swimsuits to make sure you have a dry one to put on. Pack one in your carry-on in case your luggage doesn't make it for a day or two. It would be smart to also pack a change of clothes and a light sweater in your carry-on.
Pack extra sunscreen in your checked luggage as it costs much more once you get there. The same is true for film if you do not own a digital camera.
The basics would not be complete without the mention of an extra suitcase or duffel bag to bring your treasures home. Roll it up and put it in your luggage so you'll have plenty of room for the exquisite souvenirs you will undoubtedly discover.
The Fun Stuff
Where does your fantasy begin? Snorkeling in the clear turquoise waters tracking an octopus near the Great Mesoamerican Reef? Four-wheeling through the lush forests of Tulum? Swimming with the dolphins? Whatever your dream, you can probably find it in Cancun.
Pack to match your plans. If you dream of snorkeling the week away, consider bringing your own snorkel equipment, especially a snorkel, mask or goggles and fins. Having your own gear will save you from needing to rent gear at the high-priced dive shops. Even inexpensive swim goggles are a good idea.
If the thought of a zip line through the jungle or a topless jeep ride (the jeep, not you) thrills you, make sure you bring insect repellent, a hat and some netting. The netting will help keep the bugs from buzzing around your eyes and mouth. Very annoying.
If you can't wait to get to the Riviera Maya to explore ancient ruins, bring along some hiking boots and perhaps a small, lightweight backpack. Insect repellent and netting are great to have along on this adventure as well.
Optional Items
Depending on how much room you have left or how important the optional items are, there are a few more items that might make your trip more enjoyable.
If you plan to spend a lot of time relaxing, take along a good book or magazine.
A travel alarm can wake you if you plan to do many excursions.
Walkie-talkies are an easy way to stay in contact with the rest of the family, as long as they're in close proximity.
Beach towels come in handy if you are staying at a small hotel where the linen is, well, small.
Drink only bottled water in Mexico. The ice is OK since it is made with filtered water. But if you do get a bout of Montezuma's Revenge, chewable Pepto-Bismol tablets and anti-diarrheal medication will make you more comfortable. Some people even take the Pepto-Bismol tablets as a preventative measure. But beware--after a day or so, it will turn your tongue black.
Wrap It Up
Cancun is a tourist's paradise and most anything you forgot, you can get there. Remember to pack light but pack right, and you'll hate to say "adios" when your vacation is over.