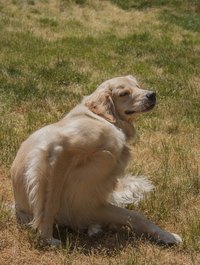 Veterinarians typically prescribe medication to fight fleas as well as other parasites such as ticks and heartworms. The active ingredient in many parasite preventives is permethrin. Permethrin kills fleas and ticks by inhibiting their nerve impulses, paralyzing and killing the parasites. If you use a permethrin-based product, use it under veterinary direction and never use it on a cat.
From Pyrethrin to Permethrin
The chrysanthemum plant naturally contains pyrethrins, a substance that kills a host of insects, including fleas, ticks and mites. Though it's an effective killer, pyrethrin's effects are short-lived. Its synthetic equivalent, permethrin, is as effective at killing parasites, but it lasts longer, providing ongoing flea protection for up to a month. Sold in liquid form, permethrin is applied to a dog's skin, at the base of his skull, where it is absorbed into his skin's oils. When the offending insect touches or ingests the chemical, it eventually dies from the contact.
Signs of Permethrin Overdose
In appropriate doses, permethrin is safe for a dog. However, if a dog ingests permethrin or receives too high a dose, he may have a toxic reaction to this preventive. A dog may experience drooling, tremors, loss of appetite, vomiting, diarrhea, lethargy, loss of coordination, disorientation, depression, difficulty breathing, hyperactivity and seizures.
Veterinary Attention Necessary
Permethrin toxicity is a veterinary emergency. At the first sign of an adverse reaction, wash the dog with a dish detergent such as Dawn to help remove excess chemicals and reduce the amount of permethrin he absorbs. Avoid hot water, which will dilate his blood vessels to encourage absorption of the product, and don't use flea shampoo.
Depending on the symptoms presenting, the vet will administer medication such as diazepam for seizures and methocarbamol for muscle tremors. If the dog ingested the medication, the vet will induce vomiting, perform gastric lavage and administer activated charcoal. Fluids are normally administered during the dog's hospital stay, which may be overnight or longer.
Using Permethrin Safely
You can greatly minimize your dog's risk of having an adverse reaction to permethrin by working with your vet to determine the appropriate dosage. He should receive an amount that's appropriate to his weight. Never use a flea preventive for a dog on a cat and keep your cats and dogs separate after applying a permethrin-based product on a dog. Cats are especially sensitive to permethrin and have much stronger reactions than dogs, often with fatal consequences.