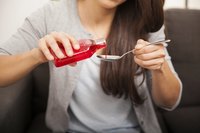 You know how annoying a persistent cough can be; it's tough to rest, makes your throat sore and sometimes makes it difficult to catch your breath. It's understandable that when your dog has a cough that you want to give him some relief. There are plenty of options for cough suppressants for your dog, however keep in mind that a cough is usually a symptom of something else at work.
Cough Causes
A little cough here and there is no big deal, for you or your dog. However, if it's persistent, you should take him to the vet to determine what's behind that cough. Infections, viruses, parasites, heart disease, lung problems and cancer are all potential causes of a cough in a dog. The type of cough he's experiencing gives clues about his condition -- a dry honking cough is associated with kennel cough, while a moist cough indicates the buildup of fluid in the airways or lungs. When your vet determines the reason for his cough, the real treatment can begin. However, you can help ease his cough in the meantime.
Prescription Cough Suppressants
A cough suppressant works to stifle the coughing reflex by acting on the medulla oblongata, the part of the brain that triggers coughing. Narcotics can be effective at targeting that trigger, though they require a veterinary prescription. Morphine, hydrocodone, codeine and butorphanol are all medications the vet may prescribe to help stop your dog's nagging cough. Butorphanol does double duty as a pain killer, as well. If your dog's cough continues to persist beyond several days or becomes worse, or he develops a fever, his vet may determine one of the prescription cough suppressants is in order.
Over-the-Counter Suppressants
If your dog's cough is dry and unproductive, the vet may recommend a stop at the drug store to pick up some dextromethorphan. Also known as Robitussin or Benylin, dextromethorphan depresses the medulla oblongata without the sedation prescription narcotics can cause. This over-the-counter medication isn't approved by the U.S. Food and Drug Administration for animal use, but it is safe to use with veterinary guidance. Its use comes with cautions: It should not contain acetaminophen or caffeine, nor should it ever be used for a moist or productive cough. Read the label carefully to ensure you're buying dextromethorphan and not a suppressant that may include ingredients harmful to your dog. Potential side effects include vomiting, nausea, dizziness or drowsiness. Pregnant and lactating dogs should not use this cough suppressant; it may react with other drugs, such as antihistamines and central nervous system depressants.
Home Remedies
You don't have to make a trip to the drugstore to soothe your pup's cough, you may have everything you need in your kitchen cabinet. A 1/2 to full teaspoon of honey three to four times a day will help his cough and his throat. Coconut oil can help him cope with his cough at a dosage of 1 teaspoon per 10 pounds of body weight. The total amount should be administered throughout the day, in increasing amounts. If you have some fresh sage in your yard, trying brewing a tea for your dog's cough.
Veterinary Attention
If your dog's cough gets worse or lasts beyond a week, he should see a vet. Other signs he needs veterinary attention include a loss of appetite, lethargy and fever. Pay attention to the details of your dog's condition: what his cough sounds like, if your dog's routine has changed, if his heartworm prevention is current and if he's had any kind of change in the environment, such as keeping the company of a smoker or a new dog. When the vet makes a definitive diagnosis, he can treat the root cause of the cough, likely making a cough suppressant unnecessary.