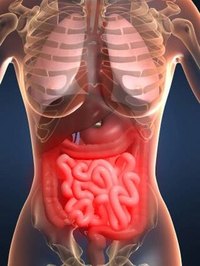 The job of the colon is to remove waste material and bacteria while maintaining fluid and electrolyte levels in the body. However, over the course of our lives, fecal matter and other bits of waste build up in the organ, becoming impacted and creating toxins that can spread across the body. Eating and drinking certain things can lead to an excess of these "toxic wastes" in the colon, and the only way to remove them is for the body to force them out--or with the help of a trained medical practitioner who can perform a colonic, among other procedures. However, the latter is often uncomfortable and more expensive. Naturally cleansing the colon with a steady diet of food and fluids for a short period seems the preferable route for many interested in ridding themselves of this excess waste. Eat these types of foods regularly and get a good couple books for the toilet.
Fibrous Foods
A simple rule of thumb: Restrict non-fibrous foods and double up on fiber-heavy foods, especially insoluble fibers. Non fibrous foods consist of fried, fatty and junk food, noodles, candy and red meat. Fiber-heavy foods consist of nuts, seeds, vegetables, beans and whole grains. Flaxseed and oats are especially healthy. Soluble fiber foods also prevent constipation.
Fresh Juices and Water
Fresh fruit or dark green vegetables help cleanse the system as well. Drinking alcohol, coffee, sodas or any other drinks that dehydrate the system shouldn't be consumed. They reverse the cleansing process and cause what is stuck within the colon to stick more. Lemonade and lukewarm water are also recommended to flush the system.
Naturally Green-colored Foods
Alfalfa, wheatgrass and spirulina, to name a few, have rich amounts of chlorophyll and are excellent for intestinal colon cleansing. The chlorophyll repairs damaged cells and areas of the digestive tract, relaxing it and helping it to release toxins that may have been built up. Chlorophyll has even been called an "internal deodorant."
Raw Egg Yolk
Though not necessarily appetizing, raw egg yolk has vital vitamins and minerals for your body that help cleanse your colon. It can be mixed with milk or vegetable juices and swallowed. Though raw egg yolk may look and taste bad, your body will respond positively to it. If you can't manage to consume this, try a couple spoonfuls of yeast flakes, which are almost as healthy and cleansing as raw egg yolk.
A Few Oils
Fish oil, coconut oil and olive oil are good to have regularly throughout a colon cleanse, as they maintain the hormonal levels in the body and provide important omega-3 fatty acids. Most important, they don't raise the toxin level in your body as other oils tend to do, which is entirely counterproductive when you're trying to flush those toxins.